La Sportiva Mutant
Category
Summary
Average Weight: Women's 272g / Men's 309g
Stack Heights: 29mm and 19mm
Heel-to-toe Drop: 10mm
Lug Depth: 6mm
Supportive and cushioned with excellent grip for fell, trails, hills and mountains.
Upper
The upper of the La Sportiva Mutant uses the Air Mesh cover that is very breathable and keeps the foot well ventilated. The foot will be kept cool and dry without affecting the shoe's breathability features.
The shoe's Spyral tongue delivers an easy entry and personalized fit while giving additional protection. It prevents debris from entering the shoe and works well with the shoe's 4 Way Stretch Gaiter. The gaiter covers the upper and keeps shoes free from small stones and debris.
It also features the Fusiongate Lacing Harness system that serves as a support system, securing the foot especially the mid foot.
Lastly, it utilizes the TPU Toe Cap that keeps the foot well-protected sharp rocks and other trail hazards.
Midsole
The midsole uses the Injection molded EVA that provides sufficient underfoot cushioning for any distance on the trails and hills. This works well with the TPU Heel Stabilizer that delivers and enhanced fit by keeping the heel snug and secure.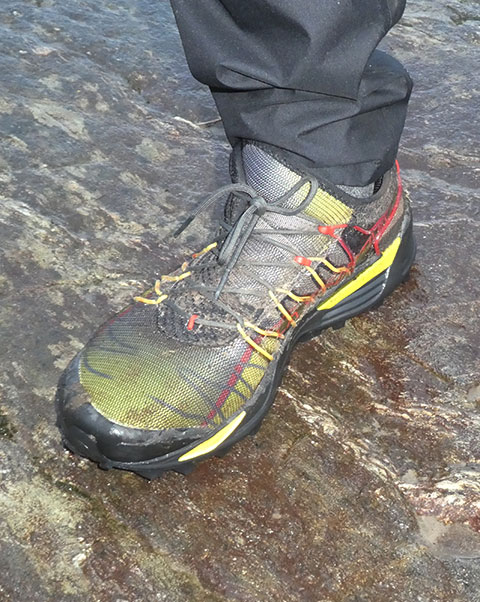 Outsole
The outsole unit of the Mutant uses the brand's FriXion XF technology. The sticky compound is formulated to give superb traction on rocky or technical surfaces.
The 6mm lug depth obviously work well in soft and muddy conditions too.
It also uses the brand's V-Groove technology with Impact Brake System that enhances the shoe's braking power and decreases impact forces. Simply put, the lugs at the front of the shoe point forward. The lugs at the rear of the shoe point backwards, so whether you are landing on forefoot or heel, uphill or downhill, you should always be assured of excellent traction and cushioning.
Pros
Plenty of cushioning for many, many miles on the trails and hills,
Excellent lugs for great grip on muddy trails and hills,
Extremely stable heel collar with stabilisers to hold the ankle in place.
The spiral tongue system and the Fusion gate lacing, makes for a really snug mid foot fit
Excellent durability.
Cons
At 300g+ for men and 270g+ for women they are on the heavy side for a trail shoe, but probably more durable as a result.
In testing
I used them for several miles on the hills and trails in and around Edinburgh. Also on a week away in the Highlands near Kintail.
The terrain was a mixture of hard and soft trails, grassy slopes and the odd mile of tarmac when necessary. Longest run to date around 15 miles but also used them to hike up a mountain for few hours too.
Verdict
All round an excellent shoe for logging miles and miles of trail and hill running.
Personal point but I had to size up a half size from my regular size. I may have got away with my normal size but I often use thicker Sealskinz waterproof socks on winter hill and trail expeditions!
Cushioning was good on hard pack trails and even on rocky stretches, no discomfort from underfoot, jaggy rocks.
The spiral tongue lacing system is certainly innovative and is a variation of La Sportiva's tongue design from their popular climbing shoes. Combined with the integrated lacing system, it gives an amazingly snug yet supportive feel around the mid foot. You certainly felt secure on uneven ground or when cambering across a slope.
Grip was never an issue. Admittedly I am not as fast these days but all muddy trails I kept upright, as I did on all steep grassy slopes encountered.
The x-friction rubber compound has so far been great on wet, slab rock. Absolutely fine too on fresh snow on the upper reaches of the Munro hike.
Although they come in a little heavier than some trail shoes, they really are built to last and I am happy with that trade off for miles of trundling in training. All in all, the Mutants have become like a couple of old friends already.