Best Road Racing Shoes: Autumn 2023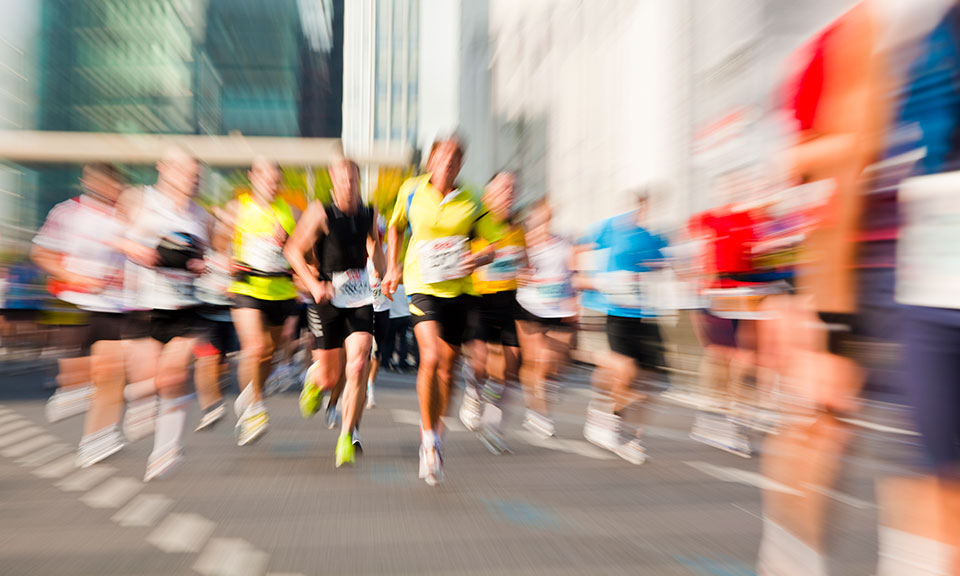 Give yourself a fair advantage
...with this season's most impressive road racing shoes. Lighter and faster than ordinary trainers and designed to bring you maximum energy return, a racing shoe will help you shave seconds or even minutes off your PB. Racing shoes are also great as a less cumbersome option for fast, up-tempo training runs.
For a personalised shoe fitting, we'd recommend popping by our store to make sure you're getting the most suitable racing shoe for your footstrike. Below are some of the best we have to offer. (Weights quoted are for a size 8 UK men's shoe and a size 6 UK women's shoe.)
Lightweight Racers / Best Cushioned / Neutral Racers / Support Racers
The Elite is the top of the range in Endorphin collection, made for performance and competition. Maximum cushioning is packed in PWRRUN HG midsole with 8mm drop.
Stack Height: 40/32mm
Average Weight: Men's 204g
The carbon plate construction of this impressive racer allows for increased flexibility, resulting in a sublime movement that mirrors the foot's natural motion. Despite the flexibility, its powerful propulsion is not compromised, but rather enhanced, providing a smooth and effortless ride. Furthermore, the luxurious PWRRUN HG cushioning ensures maximum comfort for the ultimate performance.
Saucony Endorphin PRO
The premium racing shoe from Saucony. The Endorphin PRO helps you to achieve your best times in races due to the carbon plate and Speedroll technologies. The full length carbon-fibre plate is sandwiched in between two soft layers of PWRRUN PB cushioning. Alongside Sepeedroll geometries this creates propulsive movement forward, decreasing your fatigue so you can reach your fastest times.
Offset: 8mm (heel 35.5mm / forefoot 27.5mm)
Weight: Men's 213g
Saucony Kinvara
The super lightweight and low-profile Kinvara is an ideal training or race-day shoe for road or track, ranging from short to long distance. The responsive midsole offers energy-return cushioning for great rebound, and the breathable upper keeps the feet ventilated.
Offset: 4mm (heel 24.5mm / forefoot 28.5mm)
Weight: Men's 213g / Women's 184g

Best Cushioned, Neutral Racers
Longer races (beyond 10KM) or extended speed sessions will require a racing shoe with a bit of extra cushioning.
Hoka Mach X
The Mach X by Hoka features a Pebax® plate compressed between two soft layers of cushioning in the midsole. This, combined with an aggressive Meta-rocker, provides a propulsive and speedy ride. Due to Hoka's typical well-cushioned, thick midsole and super stable ride, the Mach X is a brilliant choice for those seeking speed, especially in long distances like a marathon or ultra.
Offset: 5mm (Men's 42/37mm / Women's 37/32mm)
Weight: Men's 266g / Women's 227g
Hoka Mach
The versatile Hoka Mach features plenty of lightweight cushioning, for comfort on everyday runs or races. This neutral running shoe is incredibly flexible, to take you through the gait cycle of midfoot landing to toe-off in smooth motion. The geometries encourage you to midfoot-strike for natural body alignment. The plush jacquard-mesh upper is soft, allowing comfort while providing a secure fit.
Offset: Men's 5mm
Men's (heel 29mm / forefoot 24mm) / Women's 5mm (heel 27mm / forefoot 22mm)
Weight: Men's 232g / Women's 192g
Saucony Endorphin Speed
The Endorphin Speed features a less agressive nylon plate, specialised using Speedroll technology. This gives more momentum and strong propulsion. The upper features recycled plastic, making this an environmentally-conscious running shoe.
Offset: 8mm (heel 35.5mm / forefoot 27.5mm)
Weight: 224g
Brooks Hyperion GTS
The Hyperion GTS has been designed with 'Focus on speed' in mind. Its responsive DNA Flash midsole absorbs impact without slowing you down. The GuideRails® support piece on the inside gives an element of stability.
Stack Height: 22/14mm
Heel Drop: 8mm
Average Weight: Men's 230g
Wishing you many enjoyable races and personal bests this season!