Best Carbon‑Plate Running Shoes: 2023
The last few years have seen a huge rise in interest in carbon-fibre running shoes. Shoes where a stiffer plate is inserted in a well-cushioned midsole to help forward propulsion in the last phase of the gait cycle is not a new idea by any means. Several companies have implemented the idea in various ways over the last 20 years. The combination of a carbon plate, super springy cushioning and the right "rolling geometry" has spearheaded the current wave of shoes.
The increased performance indicators at elite level – notably the sub-2-hour marathon – have engendered much debate amongst runners at all levels. One thing for sure: carbon-plated shoes are not going to go away for the moment.
---
What does carbon fibre do for shoes, and how do they work?
Simply put, carbon fibre plates are like springs that propel you forward. Basic biomechanics identifies 3 phases to the gait cycle of most runners:
First impact phase: usually at the heel or midfoot.
Second phase: when most of the foot can be in be contact with the ground.
Third phase: when you go onto your forefoot and you project forwards.
The combination of the rocker-like geometry of the designs, together with the spring-like qualities of the plate, when used in conjunction with a soft springy midsole, just seems to enhance forward motion – and quickly.
---
Should I wear carbon plate shoes?
In our opinion and experience, shoes with any kind of enhanced forward propulsion like carbon plates are engineered to improve performance.
Although in the last two years performances by elite runners in carbon-plated shoes have broken records and hit the headlines, performance is all relative. Obviously, if you want to improve your running, you have to train and train hard. No pair of shoes by itself is going to help that. Having said all that, whether you are an elite 10km or marathon runner going for a national record or a club or recreational runner just aiming to improve your PB, little things do matter! If you are convinced by the arguments that a carbon plated shoe will help you improve, there is only one way to find out.
---
How much faster are carbon plate running shoes?
Some companies would lead you to believe quite a lot, and the mythical 4% figure has been often quoted. Trying to find independent research not involving a running brand is not easy but does exist.
You, as a runner and we, as a retailer, always try to go beyond the headlines or the tweet or the marketing hype to see, "what is really going on here?" Any coach, in any sport, will tell you it is hard consistent training and attention to your running form – sometimes for a few years – that brings genuine improvements.
However, performances by elite and club runners wearing carbon-plated shoes have shown substantial individual improvements at a range of distances from 5k to 50 miles. Or as people often say, "The stopwatch doesn't lie."
---

Which running shoes have a carbon plate?
Hoka Carbon X / Saucony Endorphin Pro / Saucony Endorphin Speed / Saucony Endorphin Shift / Hoka Tecton X (Trail) / Saucony Endorphin Trail
HOKA CARBON X
This is the second incarnation of Hoka One One's fastest racing shoes. It comes with the same 5mm drop as its predecessor.
Stack Heights: 32/27mm men's / 30/25mm women's
Average Weights: 222g men's / 188g women's
The designers of this new version focused on improving the fit and durability by upgrading the engineered mesh upper with embroidered TPU yarns. A slimmer, jagged gusseted tongue and refined, deeper heel collar offer you additional security and comfort.
The Carbon X 2 is one of the most stable and durable carbon-plate running shoes, and although it's in Hoka's racing flat category, it has been shown to hold up well for many training miles, especially longer tempo runs. The carbon-plate sits between an upper and lower layer of
softer, lighter pro-foam midsole.
At first feel it seems slightly firm, but once out on the road and into your stride that feeling soon diminishes. You realise the firmness is part of the technical combo of cushioning, meta-rocker and carbon-plate that is now propelling you forward.
Although not a support shoe as such, the traditional wider Hoka base can be beneficial for longer runs for a runner who pronates mildly. The wider base supports the foot better than some similar carbon shoes that have a narrower midfoot. This can be especially relevant in the latter stages of a long effort, when fatigue can mean the foot is experiencing slightly more ground contact.
The Carbon X has also become been popular not just with distances up to the standard marathon but also those who venture longer in road ultra-marathons such as 50 or 100k.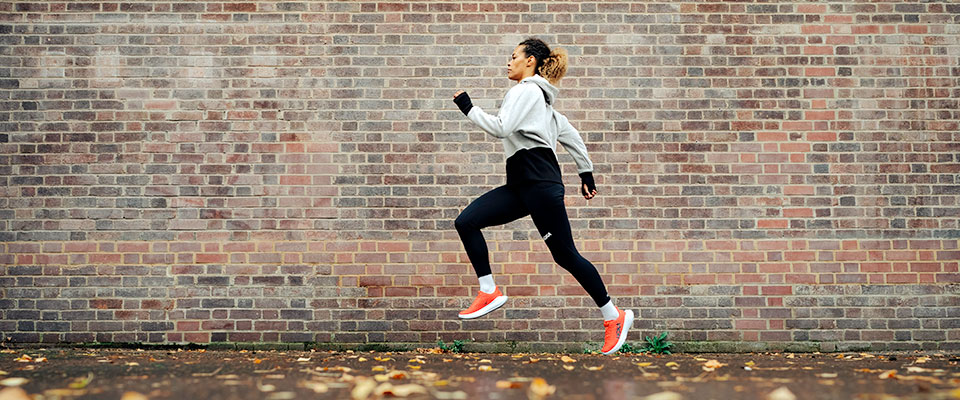 SAUCONY
With a great reputation for innovative technology over many years, Saucony have come up with their Endorphin range of 3 shoes all featuring "Speedroll" technology. The Pro that features a carbon plate. The Speed that features a plastic/TPU plate, and the Shift, which features speedroll technology with no plates. Read on for details of each...
---
SAUCONY ENDORPHIN PRO
The Endorphin Pro is designed primarily with performance and competition in mind. Constructed on what is Saucony's standard 8mm drop.
Stack Height: 33.5/27.5mm
Average Weight: 213g men's / 179 women's
The Speedroll technology has a geometry that like other shoes in this genre generates a lively forward roll for a natural and responsive ride.
Saucony's luxurious PWRRUN PB foam cushioning features the PeBa technology. For the geeks, PeBa is an acronym for Polyether Block Amide. For the average runner it is basically very soft and protective but, with the curved speedroll design, naturally propels you through the gait cycle.
It is a great shoe to rival any of the other carbon plate editions at the sharp end of any race field.
SAUCONY ENDORPHIN SPEED
The Endorphin Speed is the most popular of all the Endorphin racing shoes. It's more agile than the PRO but still delivers powerful propulsion, to help you to achieve our fastest speed.
Flexible and forgiving nylon plate. Some runners use it not only for racing but also for training. The Speedroll feature works together with the plate to propel you forward. Saucony's performance PWRRUN PB cushioning is responsive, lightweight and soft, to give comfort to your feet while competing.
Stack Height: 35.5 / 27.5 mm
Average Weights: 224g men's
SAUCONY ENDORPHIN SHIFT
The Endorphin Shift features the revolutionary Speedroll technology but has no carbon or TPU plate. It is aimed at giving the same propulsive ride as its more illustrious brothers and sisters, in a shoe that is suitable for logging many training miles and at a price in keeping with more mainstream models.
Saucony deliberately didn't put a carbon or TPU plate in the Shift to make the shoe and the Speedroll technology more amenable to all runners, whatever standard. It enables any runner to experience the propulsion effect of Speedroll technology without exposing your body to any undue pressure. Perfect for just logging the miles effortlessly. It is designed with a lower 4 mm drop but with an increased stack height:
Stack Height: 38/34 mm
Average Weights: 286g men's / 269g women's
HOKA TECTON X (TRAIL)
Named after the tectonic plates, to remind you that this highly technical off-road running shoe can be used on any hazard trail surface. The built-in carbon plate between the two layers of ProFLyX cushioning propels you forward to encourage your fastest speed. The carbon plate is split into a V-shape to make this excellent running shoe flexible on uneven surfaces. The durable Vibram outsole provides incredible grip.
Stack Height: 32mm/27mm men's / 30mm/25mm women's
Average Weight: 240g men's / 196g women's
Lug depth: 4mm
SAUCONY ENDORPHIN TRAIL
Saucony complete their Endorphin collection with the trail edition. Endorphin Trail doesn't feature a carbon plate to keep its flexibility on uneven terrain. The strong forward propulsion is achieved by implementing SPEEDROLL technology like in the road version: Endorphin Shift.
Plenty of soft PWRRUN cushioning provides soft step-in comfort, even on long or ultra distance. The grip is 4.5mm deep to offer excellent traction.
Stack Height: 32.5 / 36.5mm
Average Weights: 295g men's / 255g women's
Lug Depth: 4.5mm