Best Backpacks for Running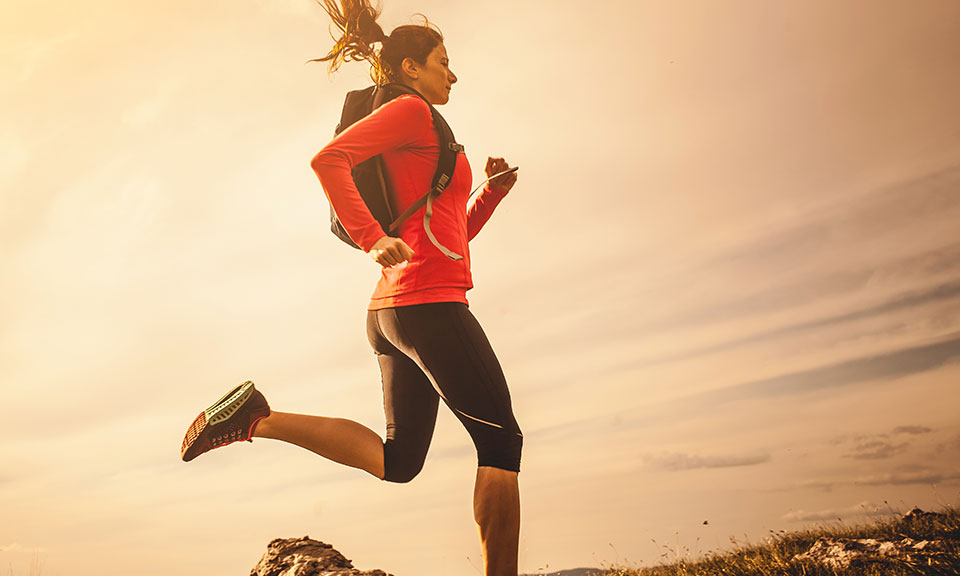 There's nothing better than heading out for a run with your perfect running shoes, comfy running kit and nothing more than a watch on your wrist. However, sometimes it's not just you that you have to carry around on your run! So, here are the crème de la crème of the running backpacks – for commuting or general use. If you're running to work (or play) with stuff on your back let's make sure you're as comfortable as possible.
---
Best Running Backpacks for Small Loads
First go over exactly what you'll be carrying. If it's a matter of a top and trousers, but no shoes, plus personal effects, but not a laptop, then a 10lt pack will suffice, maybe even an 8lt.
The OMM Ultra 8L is a stripped down pack; lightweight but strong thanks to the rip-stop nylon material – which is also pretty effective at letting rain run off it, though in consistent rain you should line it with a plastic bag. It has a removable foam pad at the back, to protect your back from stuff digging in whilst you run. Straps are a strong mesh for lightness, as the capacity is slight you won't miss any padding here. Due to the size it also has one sternum strap and no waist strap as the pack isn't big enough to warrent one. It also folds in on itself and fits into a flap pocket – so, perfect for traveling, and the buckle of the strap is also a whistle! As with all packs you can add a bladder for water if you like – it will fit up to a 2L – and there's a hole for the tube and elastic holds to keep it in place on the shoulder straps. There are also side stash pockets for water bottles – they fit the OMM Bottle and the collapsable Flexi Flasks best. This is the smallest of our packs, it will fit thin layers like trousers and a shirt, plus small extras, but bulky jackets etc. will work better with the following…
The Salomon Trailblazer 10 is an updated version of the popular Trail 10 backpack. It features a longer back support in a more square design. Like the OMM, there's space for bottles in the side mesh compartments and you can add up to a 2lt bladder. There's one main compartment and the ripstop material keeps it light but durable. The only thing it's lacking next to the OMM is a whistle.
The Gregory Maya 10 is a great option for women. You can read more bout the Gregory women's specific backpacks at the bottom of this page. The Maya 10 offers a good number of pockets so you can access things quickly, great comfort and durability. I've had mine for years, washed it a fair amount and it's still going strong.
Best Running Backpacks for Lots of Stuff
If you've got a bit more to carry – shoes / laptop / books / bulky jumper – then you have a few options to choose from: the OMM Ultra 15L, the Gregory Maya 16L (women's specific), the Gregory Miwok 18L, the Montane Trailblazer 18 and the Salomon Trailblazer 20. The 15L will carry a pair of shoes but it'll be a bit snug. If you've really got stacks to carry then go for the 20L.
If you're carrying heavy items like laptops or books then we really recommend the Miwok 18L. There are compression straps so you can reduce the volume to fit the contents, and the padding on the back and shoulder straps is brilliant and very comfortable. The Miwok also has a stack of pockets and compartments, so you'll always be able to find things quickly – there's even a expandable mesh compartment for a bike helmet! I've used the women's version – Maya 16L – with my laptop and it's far more comfortable than anything else I've tried. A lot of thought has gone into comfort: side strap fastening for less bulk, tidy loops for hanging straps, sits high on the back to prevent clothing riding up.
The Montane Trailblazer 18L and the Salomon Trailblazer 20L have not only the same name, but are also very similar when it comes to volume and price. The Montane pack has multiple storage options (including a pole carrying option) and what I really find handy are two large zipped pockets on front of the harness for easy-access storage of soft bottles. The Salomon pack, on the other hand, is more simplistic when it comes to storage solutions, but it offers an extra 2L of volume in comparison to the Montane and is £5 cheaper.
The OMM 15L has two side mesh pockets, two hip-belt pockets (one zipped, one a mesh pouch for easy access). It's also hydration-ready, with a bladder compartment and tube-routing already in place (bladder not included). With a pack weight of only 430 grams, this is a versatile ultra-light pack suitable for all your running adventures.
Best Running Backpacks for Women
Gregory design women-specific packs that are far and away the most comfortable – at least in my experience! They sit properly on the shoulders, no digging in round the back of your neck, or too much gaping at the top of the pack. All the straps pull tight enough to fit the slightest frame, and they sit high enough on the back so that even if you're petite in height they won't rub on your hips. The back is padded as are the straps, and there are lots of handy internal pockets and compartments.
There are two sizes. We find the Maya 10L is the most popular, it will hold clothing and the contents of your handbag but you could struggle with shoes. If they are flats you can fit them in the side mesh pockets as long as you don't need to put bottles there – I do that a lot. Heels can work in the helmet space which is the front part of the pack and expands out quite a bit as it's designed to hold a helmet but you may have to stuff them with paper to prevent the toe area from being crumpled. You've got hip pockets to hold phone, keys, etc. There are two main compartments to the bag, one fairly shallow and the other that is designed to take the bulk of the contents.
The Maya 22L will fit a laptop and has plenty of space, plus the front half pocket has side zips to expand capacity. I use that for carrying shopping but it will fit a bike helmet. If you're carrying less on some days the side compression straps ensure the pack is still neat and contents secure.
OMM backpacks are also pretty good for women. The Salomon work well too but don't have the level of padding which generally equals comfort as Gregory.