Best Barefoot & Minimal Running Shoes 2019
The barefoot running boom that followed the publication of Christopher McDougall's Born to Run had everyone swapping their chunky road runners for stripped down shoes that resembled school plimsolls from the seventies. Running footwear companies jumped on the bandwagon and started flooding the market with their own individual takes on minimalist footwear.
Those days have gone and most of those early minimal models have been discontinued but there are still plenty of good low and zero drop shoes on the market if you're interested in taking a more natural approach to running. Although finding the most appropriate one for you can be tricky. The best thing to do is visit one of our stores, so we can check your foot strike and give you a personalised shoe fitting.
Meanwhile, let's break it down a bit:
---
Minimal Running Shoes
If you're transitioning to minimal running or you want a bit more protection than a barefoot shoe gives you, this is the category to look at.
One of the main lessons the barefoot running phenomenon has taught us is that you run differently in a shoe with a thick cushioned heel than you do barefoot. With the first you strike heavily on the heel, with the foot in front of the body and a lot of shock goes up the leg. Barefoot, you land on the middle or front of the foot and the legs stay under the body, causing less stress to the leg.
The heel in conventional running shoes is typically around 12mm higher than the forefoot. In minimal running shoes it's between zero and 6mm higher to take out some of the heel impact and move you towards a more midfoot or forefoot strike.
---
The Best Minimal Shoes for a Neutral Runner
On Cloud: On's iconic Cloud design features hollow "Cloud" elements affixed to a flexible "Speedboard" and separated by a central channel. Each element moves individually to reduce the shock forces going up the leg. The separated nature of the midsole creates a super-flexible landing platform which is soft on impact but firms up for take off as the Clouds squish together. comes with elasticated laces for easy access and traditional laces for those who prefer them.
Saucony Kinvara: Saucony's original minimal running shoe has stood the test of time. Thin, highly breathable uppers and a flexible midsole with a top layer of Saucony's energy-returning Everun cushioning. The Kinvara is used by many as a lightweight long distance running shoe or as a faster option for speedwork and racing.
Brooks PureFlow: The PureFlow has evolved a lot since its introduction six years ago. It's lost the toe split and arch wrap it started off with. Now a BioMogo DNA LT midsole with tons of flex grooves offers you a cushioned yet super flexible ride for an unrestricted run with good ground contact. A rounded heel helps to align the foot under the body for a more natural leg position while running.
Altra Escalante: All Altra shoes have a wide and rounded 'foot shaped' toe box which permits your toes to spread out while running. This in turn helps with balance - when the big toe is straight, the foot is more stable. They're built on a zero drop platform so that the heel and forefoot are at the same distance from the ground which sets the body up in a more biomechanically efficient position and helps reduce the possibility of injury. The Escalante is one of Altra's most minimal shoes – a 25mm thick 'Ego' midsole gives flexible and responsive cushioning without excess bulk. The upper is a stretchy knitted mesh which offers a comfy, adaptable fit.
---
The Best Minimal Shoes for an Over-Pronator
Brooks PureCadence: If your feet collapse inwards when you run and you need an anti-pronation shoe but you fancy a lower drop option, consider the Brooks PureCadence. GuideRails combine with a flared midsole to ease overpronating feet gently into a more upright position. A BioMogo DNA midsole gives enough cushioning for long distance running. Light and flexible enough for short fast running as well.
New Balance Vongo: The Vongo's Fresh Foam midsole offers all the cushioning of a regular road running shoe but in a 4mm drop option. More of the Fresh Foam material is packed into the medial side of the shoe to make it firmer and more supportive against pronation without the need for the dense stability wedge used in traditional anti-pronation shoes. A soft, seamless engineered mesh upper gives a comfortable and well-held fit.
---
The Best Minimal Trail Running Shoes
Saucony Peregrine: Off-road running offers a good opportunity to try out a more minimal shoe. Softer ground means there's less impact on the legs and a thinner midsole allows you to feel your way when the terrain is uneven. Saucony's Peregine has a sticky rubber outsole with grippy lugs to stop you slipping in the boggy patches. An Everun topsole gives you cushioning on the harder stuff.
Inov-8 TrailTalon 235: Even closer to the ground, the TrailTalon 235 has a pared down, flexible midsole with a 4mm tread that's designed to shed mud and debris as you run along. Wide in the toe box so you can spread your toes. Great for hard packed trails.
New Balance MT10 and WT10: The New Balance Minimus trail has a cult following among the serious lovers of minimal footwear. Very close to the ground to give you optimum ground feel with a thin EVA midsole which offers a small amount of cushioning. A hard wearing Vibram outsole with small lugs means you can use it both on and off road.
Altra Lone Peak: Lone Peak boasts the wide, footshaped toebox and zero drop platform characteristic of Altra with a variety of trail features. A sticky rubber outsole with a TrailClaw lug pattern gives traction in wet and boggy conditions. Lugs are positioned directly beneath the metatarsals to hold the ground better when ascending or descending. Quick Dry air mesh keeps out the dirt and drainage holes let the water drain out if you go through a puddle. A rock plate protects the foot from sharp stones.
---
Barefoot Running Shoes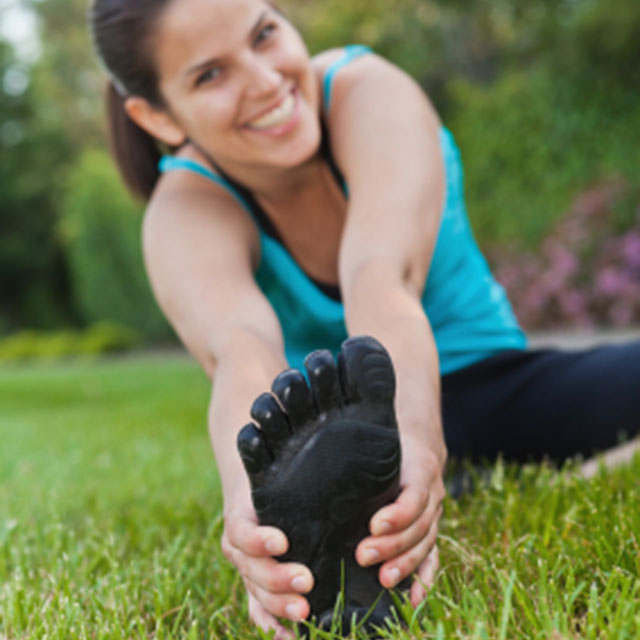 For the serious barefoot runner all of the time, for everyone else some of the time. Some people do all their running happily in a barefoot shoe, others use them as a strengthening tool for their feet.
Just walking around, using in the gym or running little bits in them activates the muscles in the feet and legs which get lazy when we wear shoes all the time. Either way, best to start gently and listen to your body.
All these shoes are built on a zero drop so the heel and forefoot are on the same level. The shoes with the toe pockets allow your toes to spread, helping with balance and giving you better feedback from the ground.
---
The Different Five Fingered Shoes
Vibram FiveFingers KSO Evo: Keep Stuff Out with Vibram's iconic five fingered shoe. The KSO has the most flexible, most minimal sole in their range allowing you to feel even the smallest undulation underfoot. Stretchy uppers and lock-down laces offer a secure fit.
Vibram FiveFingers V-Run: Formerly known as the Bikila, V-Run is the running specific toe shoe. Developed in response to barefoot runners who wanted a little more between their feet and the ground on longer runs. The 8mm thick sole gives you an element of cushioning and protection. The polyester lycra stretch mesh upper has little holes for ventilation and it's designed to be comfortable when worn without socks (although you can always use one of the Injinji socks if you're finding your feet get cold).
---
The Best Barefoot Trail Shoe
Vibram FiveFingers V-Trail: V-Trail is Vibram's trail-specific toe shoe. Multi-directional triangular lugs offer traction on off-road surfaces They can't make the lugs too deep on a barefoot shoe or they would just dig in and be too uncomfortable to run in so if it's really muddy, you need to be careful where you put your feet or you're likely to slip around) An extended rock protection mesh under the sole disperses the shock when you run over a stone to reduce bruising. The upper is padded around the heel for comfort and toe bumpers at the ends of the toes protect your toes from bumps.
---
Lastly, it's worth bearing in mind that each model of the barefoot shoes fits slightly differently and all the minimal shoes will fit and feel different when you've got them on your own individual feet. So why not pay us a visit and test run some of our range.
1. Build up slowly
2. Keep your strides short
3. Listen to your body
4. Go quietly
5. Enjoy!