William Sichel takes on 3100 Miles
Race Days 20 & 21, 4th & 5th July 2014
I find myself transported on Air France via Paris from Edinburgh to New York. I have been following the race with interest from afar via simple sporadic web updates and text messages. I can now see it unfolding before me.
It is a race that has intrigued and fascinated me for many years. I know several folks who have run it and I have also over the years become good friends with the race organisers Rupantar La Russo and Sahishnu Szecuil of the Sri Chinmoy Marathon Team in New York.
Now I am experiencing first hand what the New York Times has called "the world's toughest footrace" : The Self-Transcendence 3100 Mile Race. Although many runners take on some amazing personal challenges, there is no other certified race like this on the planet. Whenever I have tried to explain the event to fellow runners it is usually met with curiosity, bewilderment or a rather bemused "NO WAY!". It really does tax the imagination just thinking abut it. Competitors have to circle a suburban block certified by a US track and field course measurer as 0.5488 long. In total they have to circle this block a staggering 5648 laps to complete the race. The race cut-off is 52 days. Each day the course is open for 18 hours from 6am to midnight. In order to make the cut-off, runners have to average a distance of just under 60 miles a day€¦ every day.
As we approached New York the air France flight announced the result of France's defeat to Germany at the world cup in Brazil. This was received by a collective groan from the predominantly French passengers. The World Cup started after the fourteen runners from 10 different countries started their epic journey. The final will be played out, analysed and forgotten about€¦ and the runners will still be running this race, just to give a perspective on the timescales involved.
This year a very good friend of mine William Sichel from the tiny island of Sanday in Orkney is taking part in the race. William and I have known each other for over 20 years. He was a mail order customer of Run and Become. In the early 1990s the internet was still in its infancy. If you wanted to mail order from us you filled in a tear-off form in one of our magazine adverts and sent it by post with a cheque, or you called and spoke to us.
William always chose the latter, electing to chat and find out first hand about products he had read about. Over several months through this simple but meaningful communication I found out he ran marathons and he found out I ran ultras. William was returning to active sport after a little break. He had been a competent table tennis player in younger days, good enough to play full time and spend a few years in Holland and Japan. A few marathons later with a PB under 2hrs 40min he was seeking out fresh challenges.
In a call to the store one day he asked me, "Do you think I could run an ultra?"
Without blinking I replied, "Of course. But you do actually have to want to do it!"
To cut a long story short, William ran a 40-miler round the Isle of Man TT course in the spring of 1994, in preparation for competing in the Scottish 100km (62.2 miles) championships in July of that year. The championships were incorporated into the Self-Transcendence 100km event I was organising in Edinburgh. William duly came down from Orkney and won it! He defeated several more experienced and competent ultra runners in the process.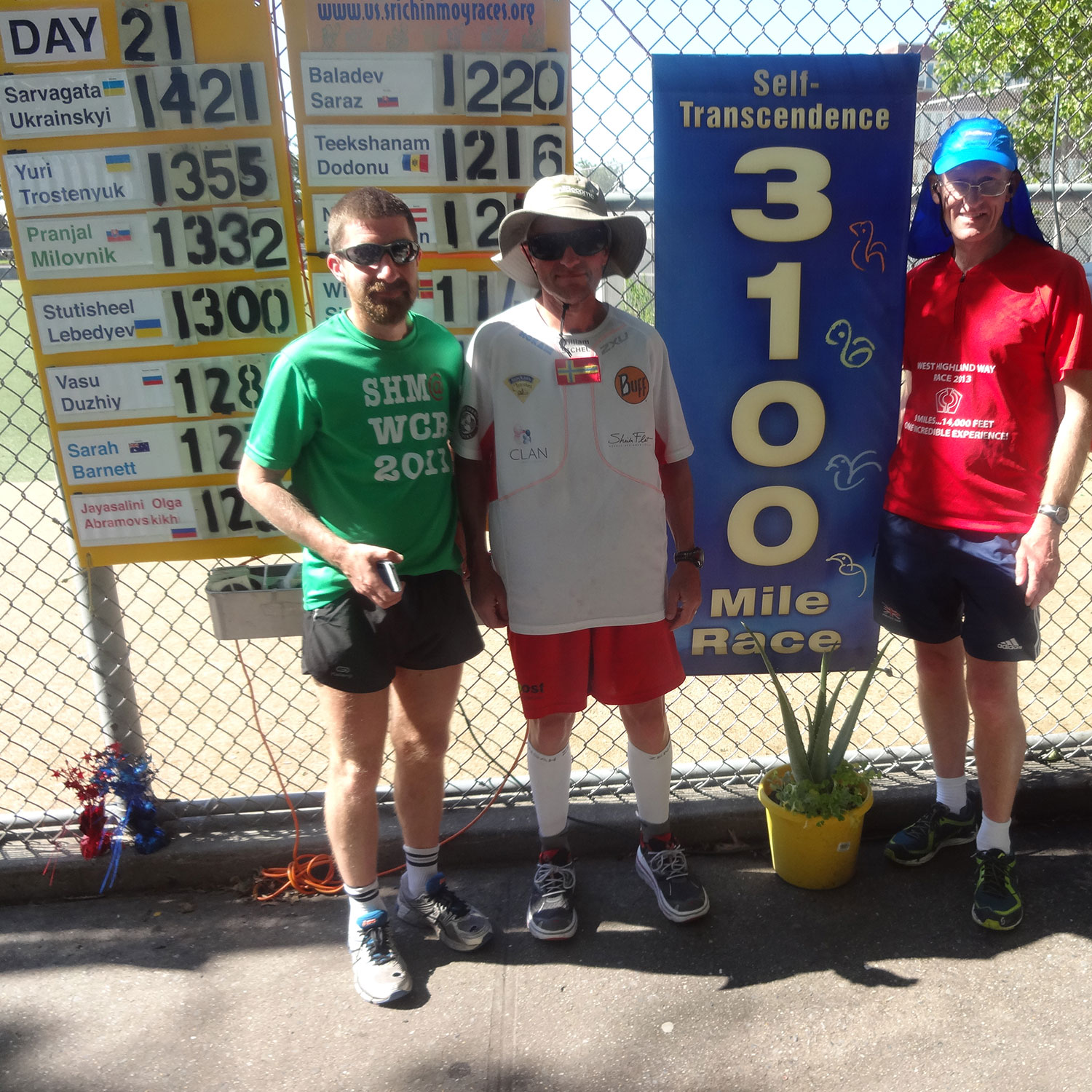 Over the years our paths have crossed many times, competing in the same races, even competing in the same GB Ultra teams. His many accomplishments are well documented on his website. William spent several years competing with distinction at the two classic ultra distances of 100km and 24 hours. He has gone on to become one of Britain and the world's most competent multi-day runners, taking part in many 48-hour and 6-day races.
From a simple question in a phone call over 20 years ago his "ultra path" has led him to be here in New York, taking on possibly the ultimate ultra distance running challenge that is the 3100 mile race. An event that is as much a test of mind, heart and soul as it is of simple physical endeavor. It is testing him to his limits€¦ and beyond. The reality of this event is that for many folk it is just so hard to comprehend even thinking about what is involved. William is actually brave enough to step on the start line€¦ each and every day!!
More info on the race at 3100.srichinmoyraces.org »
---
Race Days 22 & 23, 6th & 7th July 2014
Although for the runners the day's racing starts at 6am, behind the scenes it is almost a round-the-clock operation for the organisers and volunteers. After midnight when the runners go home, a small crew has the task of cleaning up and putting all essential items back into the series of camper vans that are acting as race HQ. The vans are then locked. At around 4.45am two more volunteers arrive to do the reverse process and get everything out of the vans ready for the runners arriving for the 6am start.
The race leader Sarvagata Ukrainski reached the halfway point of 1550 miles today. The Ukrainian has become the strong man of this year's race reaching the high 60s and topping 70-mile days frequently. His day's total yesterday of 74 miles was his highest single day total so far.
Scotland's William Sichel reached his own little landmark yesterday too. He reached 1200 miles in the afternoon and 2000km late in the evening. In most athletic events these split points or lap splits are measured in minutes, seconds and occasionally hours. Such are the extremes of this race that days (in this case 21) are added as a preface. 21 days +16 hours 50 minutes 06 seconds was William's split time. We believe he is only the second Scot to have run that far in a competitive event. The other is ex-pat Al Howie who is originally from Ayrshire on the west coast of Scotland. After emigrating to Canada, Al became one of the great multi-day runners of the 1980s and early 1990s, and once took part in a 1300 mile event, one of the early predecessors of the 3100 mile race!
William ran another day of 60 plus miles yesterday to take his total to 1247.74 miles. An average of 59.5 miles is required each day to reach the cut off of 52 days. Living in Scotland does not do William any favours climate wise. His home in Sanday in the Orkney Islands off Scotland's north coast has a temperate northern European climate.
This is a world away from the summer heat of New York where it tops 30 degrees most days with humidity. The temperatures could be even higher in the next few days. Frankly it is pretty brutal, and like most of the runners William conserves his energy in the main heat of the day by travelling very slowly and taking a mid afternoon nap. This enables them to take advantage of the cooler evening hours where most run strongly right up to that midnight course closure. The last two hours each night vaguely resemble the later stages of a 24-hour race, where runners pick up the pace or refocus to try and attain their finishing goal. Unlike a 24-hour race, at this race they have to come back day after day to do the same thing again!
There are three women amongst the 14 runners. Australian Sarah Barnett, a multi-day veteran, is back for her second attempt having just failed to make the cut off last year. She leads the race on day 23 and will pass 1400 miles today (Monday). A young Russian runner Jayasalini Abromovskikh, who is making her first attempt at the 3100, lies second woman, some 60 miles behind. In third place is Nidhruvi Zimmerman from Austria who, finished the race last year... and is back for more!
More info on the race at 3100.srichinmoyraces.org »