Best Racing Flats: July 2021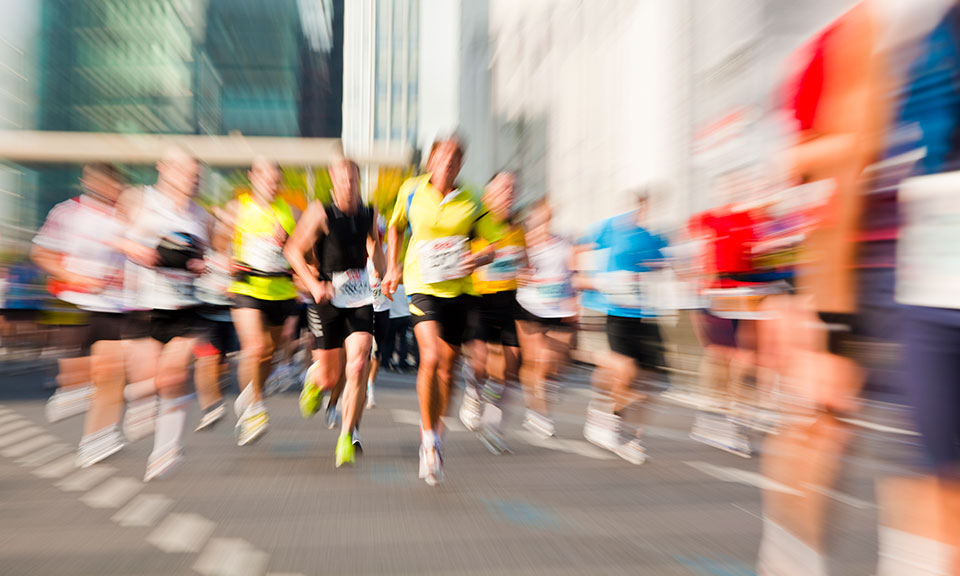 Give yourself a fair advantage
...with this season's most impressive racing flats. Lighter and faster than ordinary trainers and designed to give you maximum energy return, a racing shoe will help you shave seconds or even minutes off your PB. Racing shoes are also great as a less cumbersome option for fast, up tempo training runs.
If you can, come into one of our stores for a personalised shoe fitting to make sure you're getting the best, most comfortable racing shoe for your footstrike. Here is a selection of what we have to offer at Run and Become. (Weights quoted are for a size 8 UK men's shoe and a size 6 UK women's shoe.)
Lightest Weight Racers / Best Racers for Support / Best Cushioned, Neutral Racers
Lightest Weight Racers
Featherweight and snappy for a supersonic pace:
Saucony Endorphin PRO / Asics Metaracer
---
Saucony Endorphin PRO
The premium racing flat from Saucony, the Endorphin PRO helps you to achieve your best times in races due to the carbon plate and Speedroll technologies. The full length carbon-fibre plate is sandwiched in between two soft layers of PWRRUN PB cushioning. Alongside Sepeedroll geometries this creates propulsive movement forward, decreasing your fatigue so you can accomplish your fastest times.
Weight: men's 213g / women's: 179g. Offset: 8mm (heel 35.5mm / forefoot: 27.5mm).
Asics Metaracer
This is Asics' top of the range racing shoe. The built-in carbon plate alongside the Guidesole technology propels you forward so you can run your fastest time ever. The engineered mesh upper and the Flyte Foam cushioning are super lightweight to make this excellent racing flat feather-weight. The lightweight characteristics of the Metracer make this a perfect trainer for shorter distances and up to a marathon.
Weight: 190g, Offset: 9mm (heel 24mm, forefoot 15mm).
Best Racers for Support
No racing shoe will give much anti-pronation control because it adds too much weight but if you're an overpronator and you want a touch of guidance, consider these racers:
---
Saucony Fastwitch
Focused on speed, the Fastwitch has been a staple of the racing market for many years. Its responsive SSL EVA midsole absorbs impact without slowing you down and a firmer density support piece on the inside gives an element of pronation control. Built on a 4mm drop for a balanced ride without too much extra material at the heel. Weighs in at 193g.
Best Cushioned, Neutral Racers
Longer races (beyond 10KM) or extended speed sessions will require a racing shoe with a bit of extra cushioning.
Hoka One One Carbon X / Hoka One One Clifton Edge / Brooks Hyperion / Adidas Adios
---
Hoka One One Carbon X
Hoka's Carbon X2 is the inspiration behind a 100km race (Project Carbon X2) that took place in Arizona, January 2021, where the top athletes tried their best to break the 100km world record. The carbon fibre plate is placed in between two soft layers of Profly cushioning in the midsole. The combination of the carbon plate and the aggressive Meta-rocker propels you forward onto your toes to speed you up.
Due to Hoka's typical well-cushioned, thick midsole and super stable ride, the Carbon X is a brilliant choice for a runner who wants to achieve their fastest speed, especially in long distances like a marathon or even an ultra distance. It of course can also be used for shorter distances if you're looking for super-cushioned racing shoes with added propulsion.
Weight: men's 239g, women's 198g. Offset: 5mm (men's 32/27mm women's 25/22mm).
Hoka One One Clifton Edge
Built on an 5mm heel drop, with a plenty of cushioning this ultra-lightweight racing shoe from Hoka is designed for your everyday running and racing. The midsole is extended to the sides and heel to give you a stable base. With its early stage Meta-Rocker and lower heel drop, the Clifton Edge delivers a smooth and easy ride. The softer cushioning under the heel and firm under the forefoot encourage a natural footstrike and toe transition. Weight: 252g in men's and 204g women's.
Adidas Adios
Adios is Adidas' iconic super-quick racing flat which has won more international marathons than you can shake a stick at. The firmer Lightstrike Pro compound alongside the super-soft Lightstrike foam and torsion system in the midsole deliver a perfect balance of softness and responsiveness for a smooth ride. The light Microfit mesh upper features recycled materials. Sticky continental rubber on the outsole helps you keep your footing in the rain or as you run over wet pavements at water stations. Even in the dry it saves you valuable seconds by reducing backwards slipping as you toe off. Enough cushioning for longer races or faster training sessions. Weighs in at 231g.
Wishing you many enjoyable races and personal bests this season!