The 3 Best Waterproof Running Jackets: 2019
Are you facing a challenging battle with the weather while keeping up with your running? Let's face it, running in winter can be really tough, so this is the time of year when we need the best gear!
One of the essentials for wet and cold weather is a waterproof running jacket. Do you need some tips? Here we go, these three jackets are fully waterproof and windproof, and would be a brilliant choice of outer layer in challenging weather. Extremely lightweight with taped seams and adjustable hoods, offering the latest waterproof technology with as much breathability as possible! Check our newest range...
OMM Kamleika / Ronhill Infinity / Montane Minimus
OMM jackets are well-known for their stretchy materials. It is their moisture-wicking four-way stretch Gelanots Fabric which moulds to your body in a way that other materials would not. Because of these body moulding properties it is easy to forget that you are wearing the jacket as it is so light. It is also because of this stretch fit that the air volume inside the jacket can be reduced, making it an even better and virtually noiseless fit. It would be also great for longer races in winter, as you can ventilate with the two way YKK zip and avoid overheating. You can store gloves or other essentials in two huge hand pockets. Another detail which is very handy is that the hood is adjustable and has a peak. It also has reflectivity features on the front back and the sleeves. All these features make it a great option for running basically any distance on any terrain, while needing protection against rain and wind.
This ever popular Ronhill waterproof jacket protects you in every condition you can imagine. Extremely light and fully waterproof Aqualite Fabric, with 2.5 layer hydrophilic finish, keeps you dry and protected no matter the weather! Adjustable cuffs and hem, hood especially designed for running, and taped seams give you 100% protection, even in very windy conditions. The newest update includes a venting tab for extra airflow to keep you cool and comfortable. I love the chest pocket – it's so big you can hide a phone, snacks, gloves and map there, if you are going for a real adventure. A few high-vis details to keep you safe in dark and foggy weather. Light, durable and very protective waterproof jacket for all weather conditions!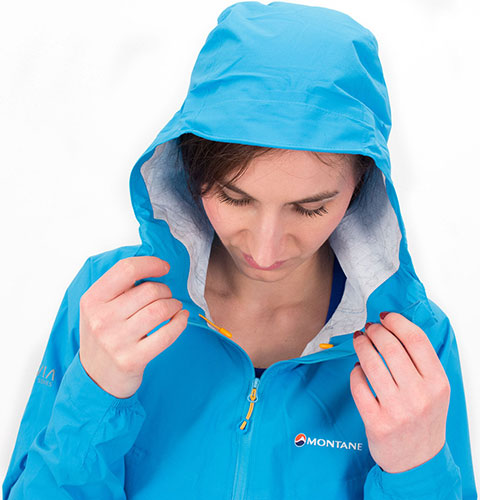 If you're looking for something really lightweight, the newest update of Montane Minimus Waterproof Jacket is perfect for you! Pertex Shield fabric is highly breathable, 100% waterproof and windproof, at only 192g weight. This jacket is a perfect choice for longer runs, especially if you need to carry more gear with you. There is plenty of storage for your essentials, or it stuffs into its own chest pocket when not in use. With adjustable hood, articulated sleeves and reflective details this jacket provides maximal protection with minimal weight. You can barely feel it on your body, but with the protection from the toughest conditions you could meet on your way!