3 Best Waterproof Running Jackets: 2022
Are you battling with the weather to keep up with your running? Let's face it, running in autumn-winter can be tough – physically and mentally. Making a smart investment in your wardrobe can mean the difference between going out and skipping a run.
One of the essentials for wet and cold weather is a waterproof running jacket. If you look after it, this piece of kit should last you a few years, so it's worth a bit of extra thought. That's why we've selected 3 best buys from our latest range.
Using the latest waterproof technology, any of these would be a brilliant choice of outer layer in challenging weather. They're all fully waterproof and windproof, extremely lightweight, with taped seams, adjustable hoods, and with as much breathability as possible!
OMM Kamleika Jacket / Salomon Bonatti Trail Jacket / Montane Minimus Stretch Ultra Jacket
OMM Kamleika Jacket
The newest version of the legendary OMM jacket has landed! This extremely light outer layer has improved durability & waterproofing and less flapping in the wind.
OMM jackets are well-known for their stretchy materials. It is their moisture-wicking four-way stretch Gelanots Fabric that moulds to your body in a way that other materials would not. The new version introduces a nylon outer layer, which immensely improves durability without sacrificing breathability.
The Kamleika Jacket feels much softer compared to other jackets on the market. It's like a fully waterproof softshell with rating 20,000 HH and a breathability level of 20,000 g/m2. You can easily forget that you are wearing it, as it is so light.
It is also because of this stretch fit that the air volume inside the jacket can be reduced, making it an even better and virtually noiseless fit.
It would be also great for longer races in winter, as you can ventilate with the two way YKK zip and avoid overheating.
You can store gloves or other essentials in two huge hand pockets.
The hood is adjustable and has a peak.
Reflectivity features on the front back and the sleeves.
All these features make it a great option for running basically any distance on any terrain, while needing protection against rain and wind.
Janji

Rainrunner Pack GFX Jacket

This jacket is perfect for racing long distance thanks to its high level of waterproofsness and breathability

This technical jacket is from a band new running clouthing brand which strongly supports environment while producing super durable high tech products.

Thanks to a special build in 360º panel which promotes maximum ventilation and heat release in the area where it is needed the most. How amazing this is!

Of course, that's just one of the many features this jacket offers. Super lightweight but durable ripstop fabric provides full protection against wind, snow and rain but also allows for high breathability (30k/30k) and fast drying.

Two generous side pockets keeps your valuables dry. You can easily pack the jacket inside the revered right pocket for easy carry around. The hood can also be folded and tack in a small elastic band. Seamless, ergonomic sleek design adapt to your body for a perfect fit. You barely can feel this jacket on!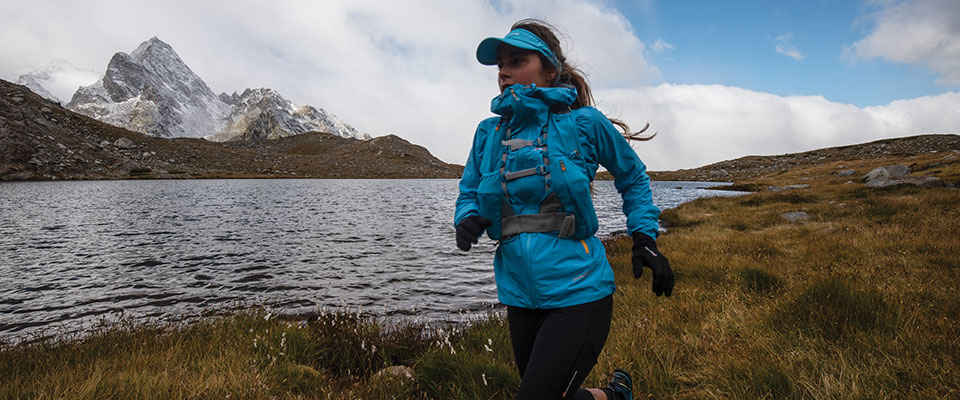 Montane Minimus Stretch Ultra Jacket
Protective yet incredibly lightweight jacket (192g) for tough conditions.
Maybe you've heard of races like Dragon's Back, Spine, Lakeland 100 or Yucon Arctic Ultra race? They have one thing in common – Montane is a brand that organises these amazing and a little crazy events! This legendary brand creates incredibly lightweight, waterproof and breathable garments essential for fast and light mountain activities.
The Montane Minimus Jacket is your MUST if you're planning some runs across hills or mountains. Lightweight and very breathable 20 Denier PERTEX® SHIELD 2.5 layer waterproof and fully taped fabric provides full protection in rainy conditions.
Adjustable hood stays on your head thanks to the pre-elastication and stiffened front. This jacket is packable in one of the side pockets and reflective details keep you safe during low-light conditions. What we especially love about this jacket is its durability. It lasts for years and still providing full protection. The fabric is strong and doesn't wear off easily in off-road conditions. It's just a very well-made garment. Also, the price. We loooooove it.