5k Race Training Schedule
Designed as a simple-to-follow guide for absolute beginners who have done little or no sport for a while. The goal is either making the 5km distance possible, or to get you to the start of a 5km event. It is asking you to find time to train on 3 days a week. All sessions together with warm up and a short stretch and shower afterwards can be comfortably done in an hour. Each session in this schedule is preceded by a brisk 5 minute warm up walk.
Designed for those who have run a little, or maybe do other sports, and have a good fitness base, who wish to tackle any event from 1 mile to 5km. It assumes you can already run 1-2 miles comfortably. It is asking you to still run 3 or 4 times a week, possibly with an added alternative exercise session. The schedule is suggesting that you are trying to jog or run rather than walk, but there is still nothing wrong with walking at times, or incorporating one of the walk/run days from the absolute beginners' schedule as an alternative. There is also one day (Thursday) in the week where you are aiming to run at "race pace". This is where you run slightly faster than the rest of the week, and you will be aware of the increase in effort, but it is not too fast to cause you discomfort.
How to follow these schedules »
---
| | | | | | | | |
| --- | --- | --- | --- | --- | --- | --- | --- |
| | Mon | Tue | Wed | Thu | Fri | Sat | Sun |
| Week 1 | Run 1min, Walk 1min, Repeat x10 | Rest | Run 2min, Walk 2min, Repeat x5 | 45min Cross Train / Alternate Exercise | Rest | Run 2min, Walk 2min, Repeat x5 | Rest or 30min Walk |
| Week 2 | Run 3min, Walk 2min, Repeat x4 | Rest | Run 3min, Walk 2min, Repeat x4 | 45min Cross Train / Alternate Exercise | Rest | Run 4min, Walk 3min, Repeat x3 | Rest or 30min Walk |
| Week 3 | Run 2min, Walk 2min, Repeat x5 | Rest | Run 4min, Walk 2min, Repeat x4 | 45min Cross Train / Alternate Exercise | Rest | Run 5min, Walk 3min, Repeat x3 | Rest or 30min Walk |
| Week 4 | Run 3min, Walk 2min, Repeat x5 | Rest | Run 4min, Walk 2min, Repeat x5 | 45min Cross Train / Alternate Exercise | Rest | Run 8-10min, Walk 3min, Run 5min | Rest or 30min Walk |
| Week 5 | Run 3min, Walk 2min, Repeat x5 | Rest | Run 5min, Walk 2min, Repeat x4 | 45min Cross Train / Alternate Exercise | Rest | Run 12min, Walk 3min, Run 5min | Rest or 30min Walk |
| Week 6 | Run 3min, Walk 2min, Repeat x6 | Rest | Run 5min, Walk 2min, Repeat x4 | 45min Cross Train / Alternate Exercise | Rest | Run 15min, Walk 3min, Run 5min | Rest or 30min Walk |
| Week 7 | Run 4min, Walk 2min, Repeat x5 | Rest | Run 6min, Walk 2min, Repeat x4 | 45min Cross Train / Alternate Exercise | Rest | Run 20min, Walk 3min, Run 5min | Rest or 30min Walk |
| Week 8 | Run 4min, Walk 1min, Repeat x5 | Rest | Run 5min, Walk 2min, Repeat x4 | 45min Cross Train / Alternate Exercise | Rest | Run 22-25min, Walk 3min, Run 5min | Rest or 30min Walk |
| Week 9 | Run 2min, Walk 2min, Repeat x5 | Rest | Run 3min, Walk 2min, Repeat x5 | 45min Cross Train / Alternate Exercise | Rest | Run 20min OR Run 7min, Walk 3min, Repeat x3 | Rest or 30min Walk |
| Week 10 | Run 2min, Walk 2min, Repeat x5 | Rest | Run 2min, Walk 2min, Repeat x4 | Rest | Rest | Rest | 5k Race |
---
| | | | | | | | |
| --- | --- | --- | --- | --- | --- | --- | --- |
| | Mon | Tue | Wed | Thu | Fri | Sat | Sun |
| Week 1 | Rest | 1.5mile / 15min Run | Cross Train / Alternate Exercise | 1.5mile Run at Race Pace | Rest | 2mile / 20min Run | 30min Easy Walk Run |
| Week 2 | Rest | 2mile / 20min Run | Cross Train / Alternate Exercise | 1mile Run at Race Pace | Rest | 2mile / 20min Run | 30min Easy Walk Run |
| Week 3 | Rest | 2mile / 20min Run | Cross Train / Alternate Exercise | 1.5mile Run at Race Pace | Rest | 2.5mile / 25min Run | 30min Easy Walk Run |
| Week 4 | Rest | 2.5mile / 25min Run | Cross Train / Alternate Exercise | 1.5mile Run at Race Pace | Rest | 2.5mile / 25min Run | 35-40min Easy Walk Run |
| Week 5 | Rest | 2.5mile / 25min Run | Cross Train / Alternate Exercise | 1.5mile Run at Race Pace | Rest | 3mile / 30min Run | 35-40min Easy Walk Run |
| Week 6 | Rest | 2.5mile / 25min Run | Cross Train / Alternate Exercise | 1.5mile Run at Race Pace | Rest | 3mile / 30min Run | 35-40min Easy Walk Run |
| Week 7 | Rest | 3mile / 30min Run | Cross Train / Alternate Exercise | 1.5mile Run at Race Pace | Rest | 3.5mile / 35min Run | 40min Easy Walk Run |
| Week 8 | Rest | 3.5mile / 35min Run | Cross Train / Alternate Exercise | 2mile Run at Race Pace | Rest | 4mile / 40minRun | 40min Easy Walk Run |
| Week 9 | Rest | 3mile / 30min Run | Cross Train / Alternate Exercise | 1.5mile Run at Race Pace | Rest | 3.5mile / 35min Run | 30min Easy Walk Run |
| Week 10 | Rest | 2.5mile / 25min Run | Cross Train / Alternate Exercise | 2mile Easy Run | Rest | Rest | 5k Race |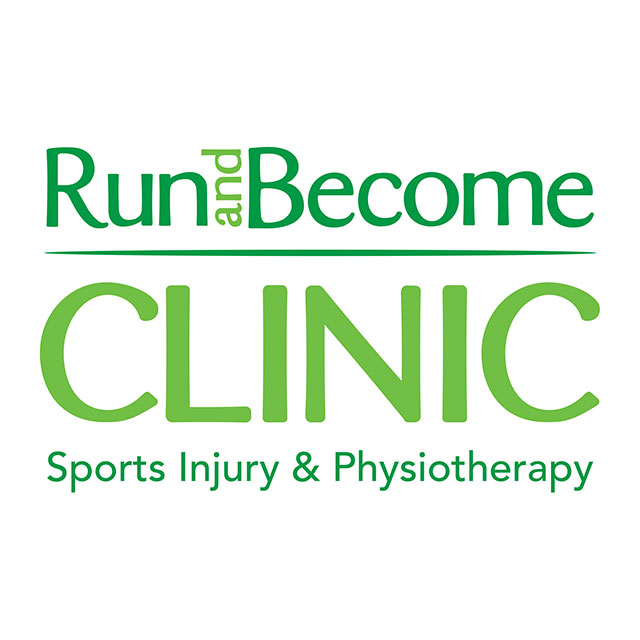 SPORTS INJURY?
For one-to-one advice, visit our expert in-store practitioners:
LONDON • EDINBURGH • CARDIFF