Review: Brooks Glycerin 20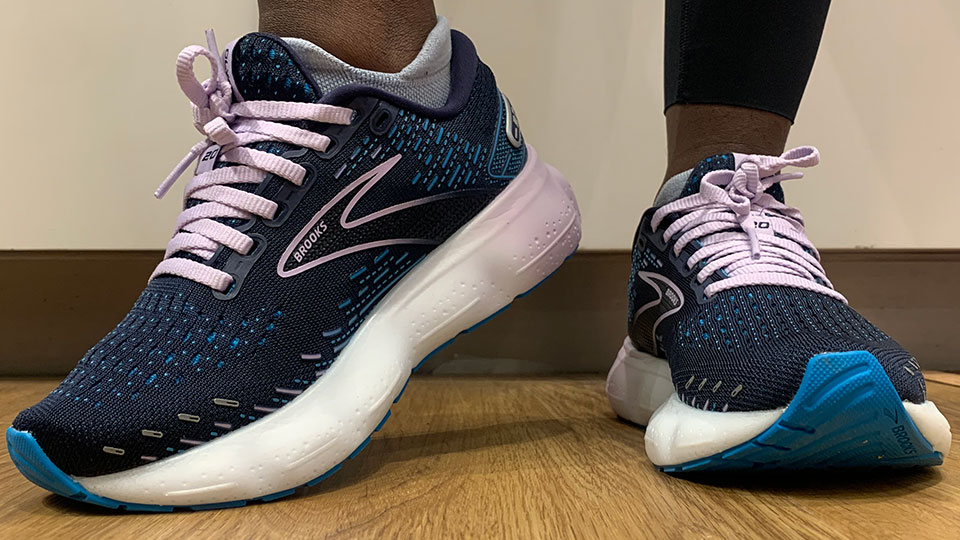 Category
Summary
Average Weight: Men's 286.3g / Women's 258g
Heel Drop: 10mm
If you are looking for a lightweight and soft cushioned shoe, look nowhere else – the Glycerin 20 has all that you need. They are very responsive thanks to the new DNA loft V3 foam for good shock absorption and a breathable upper mesh. With this latest edition, you won't want to stop running.
Features
Upper
Breathable mesh made from recycled polyester which makes it feel soft and light
Reflective details for better visibility in the dark
This model comes quite wide compared to the previous version. I had to get a wider fitting in the previous version but, this model's standard fitting fits perfectly
Midsole
Nitrogen is injected into the DNA loft V3 foam, making the cushioning softer and bouncier. This makes the Glycerin very responsive and lightweight while offering maximum comfort
Outersole
This has been redesigned with a thick rubber – making it durable and providing a good grip for an easy ride on wet or dry ground
Pros
Super soft and maximum cushioning for high shock absorption
Very breathable upper so doesn't keep the moisture in when you sweat – hence an option for those who live in warm regions.
Available in two widths for women: B and D
Available in two widths for men: D and 2E
Lighter than the previous versions
100% vegan
Cons
The cushioning feels really soft, which may not suit runners who are used to a firm feel
---
In Testing
I haven't found anything comparable to the Glycerin 20. They are a very good fit in comparision to the previous version; I had to go for the wider width in the Glycerin 19 as they were very small. This new version comes already wide so no need to worry about width concerns. I used them for running outside and at the gym. They are very comfortable to run with on the treadmill, and are very stable for other activities like stretching and functional fitness.
---
Verdict
I really like this latest model – it is my favourite shoe to wear during my long distance runs and gym session. They are very soft, light, responsive and very stable. I can spend the whole day in them at work and my legs or feet won't hurt at all!
---