Self-Transcendence 24-Hour Race 2014
---
The 25th running of The Self-Transcendence 24-Hour Race was held at Tooting Bec track on 20th-21st September 2014. Fionna Ross from Edinburgh's Harmeny Athletic Club, in her first attempt at a 24-hour event at Tooting in 2013, had impressed everyone with a distance of 216.214 km (134.1 miles). Finishing in second place overall, a new event record, she was back to defend her title.
---
Fionna Ross sets new Scottish 24 hour record, and beats all the men too!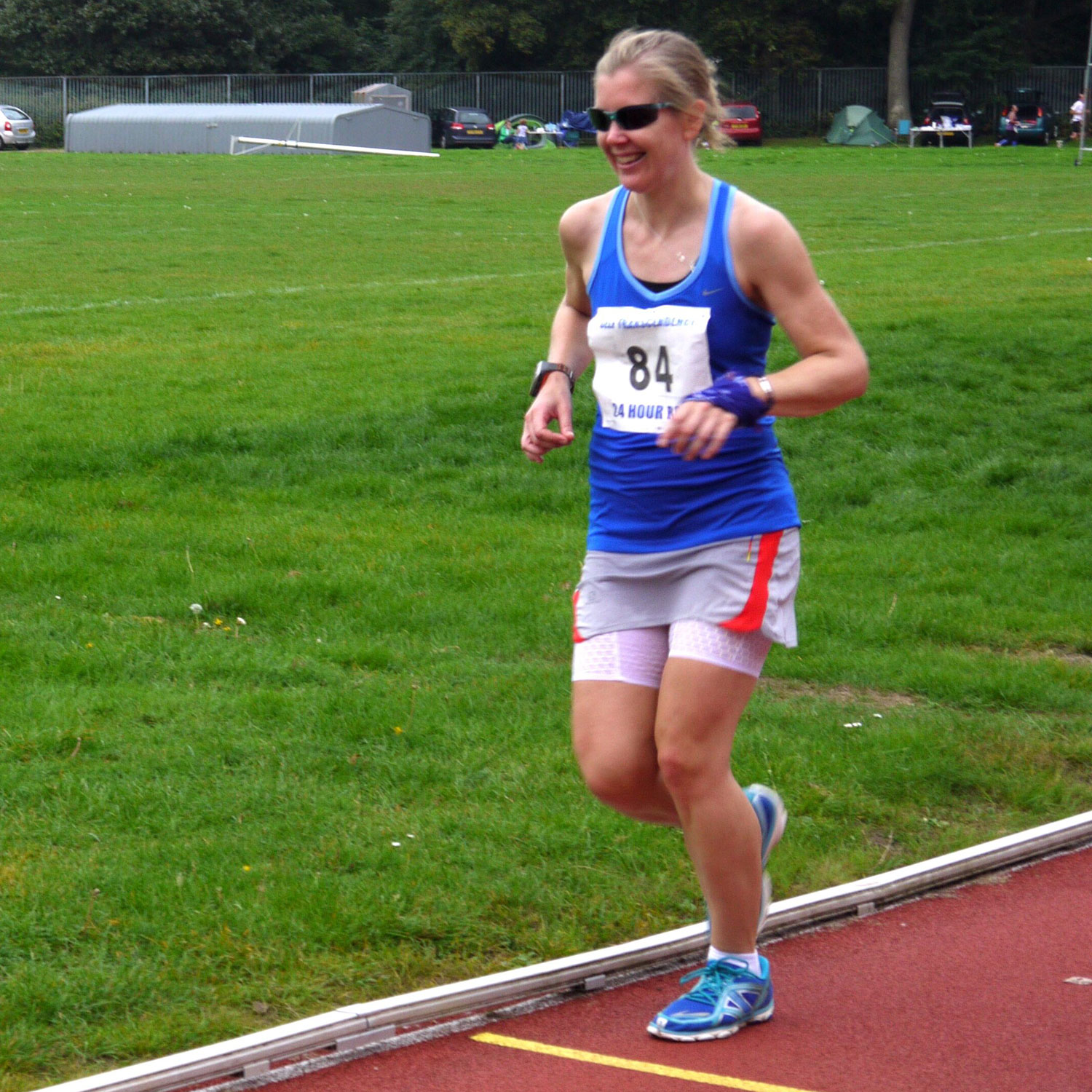 This year Fionna went one better and beat all the men to win the race outright, in the process setting a new Scottish women's record for 24 hours.
The whole goal of a 24-hour race is to see how much distance you can cover in a 24-hour time span. In this event it involved circling the 400metre track, with each lap of every runner being meticulously recorded.
Ross (34) managed to run 582 laps to record 233.018 km, or 144 miles 1391 yards, beating the existing Scottish record set by Sharon Law (Garscube Harriers) by over 4 miles. Law had set this mark 226.107 km (140 miles, 872 yards) at the World 24 championships in Holland in 2013. Along the way Ross also eclipsed Law's 200 km record by over 18 minutes, as well recording 20 hours 28 min 41 sec.
It is not unique for women to win longer ultra races outright. Debbie Martin-Consani won the 144 mile Grand Union Canal Race outright in 2012 and British ultra legends Hilary Walker and Eleanor Robinson managed it several times in 24 and 48 hour races. Helene Diamentides, paired with Martin Stone, famously won the inaugural Dragon's Back ultra in 1992.
This year though, in an incredible display of "girl power", women filled the first three places in the race, with Ross's fellow GB ultra international Issy Wykes (Truro AC, Cornwall) pushing her hard in the last few hours to record 230.100 km (142 miles, 1757 yds) and fellow Scot, Noanie Heffron (Kilbarchan) with 213.011 km (132 miles, 631 yds) in third.
In the early hours of the race Ross, using the experience gained in last years race, started steadily. Heffron settled into a steady pace too and Wykes, cautious in her first 24-hour event, even more so. Ross reached the 50km mark (31.1 miles) in 4 hours 50 minutes with fellow Scot Noanie Heffron in 5 hours 02 min and Wykes some 20 minutes behind in 5 hours 20 minutes.
By 50 miles (7:46:20 to 8:17:00) Ross had increased her lead over Heffron and Wykes, and was steadily passing all the men who had possibly started a little enthusiastically!
When 100 km was reached in 9:43:34 Ross was lying in second place overall behind race leader, Ireland's Brian Ankers (9:35). Heffron (10:23) and Wykes (10:27) were also closing in.
Just before the half way mark at 12 hours, with Ankers taking a short "time out" Ross became outright leader. The 12 hour leader board showed Ross with 122.4 km (76.06 miles) Ankers, 120.4 km (74.8 miles), with Wykes in third 114.8 km (71.33 miles) just a lap ahead of Heffron 114.4 km (71.08 miles).
Competent 24-hour runners often talk of the long hours, usually mainly in darkness, between 12 hours and reaching the 100-mile point. It is a long haul, when your body is often by habit trying to convince you, you should be asleep. You are getting totally fed up with drinking the same drinks, your digestive system is pretty much in hibernation, and you don't feel like eating anything, but you know you have to keep nibbling and sipping away, or a big crash is awaiting you a few hours down the road.
Ross and the other runners were no doubt having similar feelings, but relentlessly she, Wykes and Heffron were circling the track, edging closer to that 100-mile mark. Ross slipped past the 100-mile mark first in 16 hours 11 minutes 32 seconds. She is slightly slower than her 100-mile split of last year (15 hrs 58 min) but this is all part of her plan to eventually achieve a better overall 24-hour distance. Izzy Wykes, although 30 minutes behind, at the 100 miles in 16:45:05, is looking strong though and moving well; the experience gained in placing first lady in her first "long" ultra this summer, the Grand Union Canal Race, now standing her in good stead. Noanie Heffron reaches the 100 in 17:37:35 and is now comfortably in third place after trading places with Slovakian Michel Masnik, the leading man for an hour or so.
All 24-hour runners know that if one wants to achieve not just a good distance, but a great distance, the 100-mile mark is just a stepping stone, and now the foundations have been laid, one just has to summon up that hidden will to keep up that steady, relentless, effort for a few more hours. All the time, you are just dealing with all manner of thoughts and feelings that are trying to pierce your concentration, and convince you to ease back or take a short break. Taking a short break is the last thing on these three ladies' minds - they have all come into the race with their own personal goals, and slowly, lap by lap, they are edging closer to them.
Slowly the first signs of dawn appear, with chinks of light appearing in the sky beyond the glow of the track lights. There is a distinct autumnal chill in the air, at this early hour. With dawn, as always, comes hope, or in the runners case, the knowledge that the race end is in sight and achievable, albeit a few hours away still.
As the day gets brighter, some runners who have left the track for short breaks, start reappearing. For our leading 3 runners, there is no let up. Ross is checking how close she is to 200 km, (124.5 miles) and when I tell her she is getting close, and, but for some unforeseen imminent disaster, is sure to break Sharon Laws existing Scottish 200 km mark, she looks as if she doesn't quite believe me at first, but reassured, seems to renew her focus.
The 200 km mark is duly reached in 20 hours 28 minutes and 40 seconds, 18 minutes inside the old mark. That time was also set in a 24-hour race where Law went on to set the existing Scottish 24-hour record. Ross now has to refocus and set her sights on another 16 miles ahead to achieve that. She now has something else to occupy her thoughts though, for slowly, Wykes has been gaining ground and is just over 20 minutes behind. 20 minutes seems a good enough cushion, but any thoughts from Ross of "just cruising" through the last 3 hours, have also to be dealt with, and readjusted.
Wykes has her own goal in mind, and has come into the race with the aim of surpassing the GB 24-hour qualifying standard of 210 km. She reaches 200 km in 20:53:08 and seems quite emotional to realise she has 3 hours to cover 10km. I calmly tell her it is a 24-hour race and just to try and concentrate on 3 hours more running, as it now obvious to those watching, that Ross and Wykes, along with Heffron, are all feeding off each other, and if they can indeed keep their momentum going are all destined to not only reach their pre-race goals but surpass them considerably. All three of them still look remarkably focused although the first glimpses of fatigue are now showing.
With 2 hours to go, Ross is just short of 133 miles (214 km or 535 laps) 5 laps short of her 2013 distance, and a new PB beckons. Wykes is 9 laps behind with 130.75 miles (210.4 km) and has achieved her goal of reaching the GB team standard. Heffron, now certainly feeling the effects of 20 hours on a track at 196 km, is closing in on 200 km. With the understanding that a 24-hour race is all about distance over time, they all know that they can push their mileage up some way, in those last 2 hours.
In the penultimate hour, when many of the competitors are now reduced to a walk or a shuffle, Wykes covers 24 laps, just under 10 km, to reach 136.7 miles. Ross, determined not to let her advantage get any smaller, manages 25 laps to total 139.1 miles, and looks like victory is secure - both of them now certain to go beyond the 140 mile barrier, a distance only achieved by 9 British women. Heffron has gone through 200 km (22:27:30) and is also closing down on 210 km.
With the clock showing 23 hours and 15 minutes, Ross starts lap number 565. It is on this lap that she will surpass her good friend Sharon Law's current Scottish 24-hour record of 226.1 km.She would probably like to stop and celebrate, but that will have to wait, as the nature of a 24-hour event is that the new record is now ever-evolving with each lap Ross covers. Wykes, like many of the other runners, seems galvanized that there is now under an hour to go and looks the stronger of the two. Indeed she is actually lapping the track faster than anyone.
Heffron achieves her goal of 210 km with 20 minutes remaining, but getting the drift of what this "24 hour stuff" is all about, is showing a steely determination to run right to the hooter at noon.
When the hooter goes at the end of a 24-hour event, there is a sense of total relief that you can now actually switch off, and stop pushing yourself. For hour after hour, all the runners in their own way have had to summon up something almost beyond physical capacity, as they strive to achieve their respective goals. It is no different on this occasion.
A very tired Ross, who was running her second 24-hour event, and earlier this summer won the 95-mile West Highland Way race, commented afterwards:
"That was the hardest race I have run yet, I knew Izzy was closing on me slowly in the last few hours, so I couldn't afford to let up at all, but it probably helped both of us to achieve the final distances we did. I had hoped going into the race that if all went well I could get close to Sharon's record, but you never know how these races will evolve. I am absolutely shattered, but very very happy. I am so happy for Izzy, she ran such a strong race. I also realized just how important a good support crew is. Karen (GB 24 hour international Karen Hathaway)was just outstanding and I was so grateful for all her experience."
Wykes (36) was running her first 24-hour event after winning the 145-mile Grand Union Canal race from Birmingham to London earlier this year:
"It hasn't really sunk in yet, I am absolutely thrilled. My goal was to try and achieve the GB team qualifying distance for the World 24-hour champs next year 210 km (131 miles), but just didn't expect I could run over 140 miles."
Noanie Heffron, who was actually nursing a minor calf issue throughout, said:
"I ran the Glenmore trail 24-hour last year, at Aviemore, and really enjoyed that. (She covered 203 km). I wanted to see what I could do on an accurately certified course, and am thrilled to reach the GB Team Standard. Whether it will get me in the team, I don't know, there are several other girls with the standard too."
For our three exceptional ladies, who have all achieved something beyond their original expectations, it will be a day or two before the true reality of what they have done, sinks in.
Ross and Wykes' distances are indeed exceptional. As well as putting Ross as #1 in the Scottish all time rankings, it puts her 5th all time on the GB 24-hour lists, and Wykes into 6th place. In perspective, only 4 of GB's outstanding ultra runners of recent years - Emily Gelder, Hilary Walker, Eleanor Robinson and Lizzy Hawker - have run further in 24 hours. Good company to be in indeed. Heffron too, is now in the GB all time top 20.
What is also exceptional too, is these three ladies, are all so very down to earth: absolutely set on bringing the best out of themselves and each other, but always just totally enjoying their running.