Category
Summary
Average Weight: Men's 290g / Women's 240g
Stack Height / Offset: 12mm
Heel-to-Toe Drop: 31mm / 19mm
A great road running shoe for those looking for a smooth running experience, bouncy ride and good energy return in their running gait.
Features
Upper: The Engineered upper with Airmesh properties is breathable and has a more reconstructed, rounded heel counter for more secure ankle support and stability. The mesh feels nice, soft, and very breathable for long runs or in the heat of summer. The gusseted tongue provides comfort and an amazing fit.
Midsole: The U4ic compound in the midsole is made from super-light materials, which offer comfort, a smooth ride and great stability. The U4ic is a durable material so the shoes will not wear out within the first few months. The wave technology in the midsole provides amazing responsiveness and stability.
Outsole: This new model of Mizuno Rider 24 is highly durable because of the X10 carbon rubber outsole which guarantees longer wear – a benefit for heel-strikers.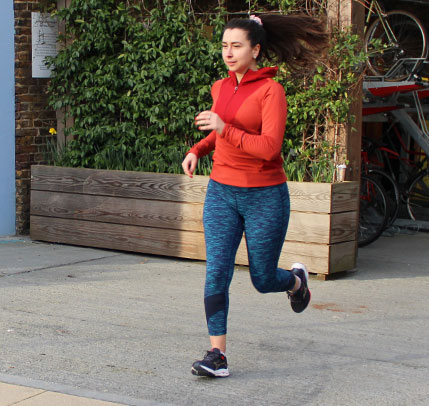 Pros
Holds your ankles really well and thereby supports your gait.
The heel counter hugs your ankles very well so they feel very secure – they could be ideal for smaller or thinner ankles.
The new Enerzy cushioning provides smoother transitions and springier rides.
Highly recommended for tempo running or speed sessions, their new Enerzy cushioning works great on those occasions.
Most stable neutral running shoes currently on the market.
It is a lightweight running shoe considering the stability provided.
Cons
Not ideal for wide feet. The upper is quite firm.
Not great for forefoot runners due to the high heel-drop (12mm)
---
In Testing
In the last few years, I have been using Mizuno and they never seem to disappoint me. I have been using Rider 24 since the twenty-second version. I am a heel striker and I found it hard sometimes to find well-cushioned shoes on the heels, as well as delivering good stability for my gait. I previously had Saucony Ride and I was not really happy with the cushioning provided on the heel, due to the lower drop.
I love the upper material of the shoe: quite snug for a better and secure fit, as well as hugging the foot nicely. The high-cut heel counter hugs my ankles in the best way, making me feel secure and confident when I'm out running.
This shoe offers absolutely the perfect balance between cushioning and responsiveness, comfort and stability, support and flexibility. Very comfortable around the arch and a wider toe box, which is extremely important for me in case my feet expand and swell after my long runs.
---
Verdict
The Rider 24 falls into the Neutral Running Shoe category and it is suitable for those with a neutral gait. It is an amazing running shoe either for those going for longer distance runs and those who prefer shorter springier runs. They are responsive, well cushioned and stable. I love how nicely they fit me. Overall, an excellent road running shoe!