Best Running Watches 2023
How to choose a GPS watch for running
Looking for 'the best running watch' for you and feeling overwhelmed? Choosing a sports watch should be exciting, rather than a headache, right?
A suitable watch is important for any runner, and it's possibly the most expensive pieces of kit you'll buy. Let's get you started with some useful tips, to make this a more enjoyable and stress-free experience. Ideally if you can come to our store, we can talk through your requirements in person, to find the perfect match for you.
---
All the running GPS watches you will find in this guide come with the basics needed for any runner:
GPS
Step count
Pace
Distance
Calories burned
Heart-rate monitor (wrist-based)
Activity history
Fully waterproof
We will highlight extra features like a fitness tracker for daily step-count and sleep. Also worth mentioning is that if you are doing a lot of intervals or any fast high-intensity workouts, you may want to add a chest heart-rate monitor, to get a more accurate heart rate (see FAQs for more details on compatibility).
---
There are few simple questions that you have to ask yourself to figure out which type of watch you need. Match your answer to the links below:
Are you looking for your first running watch, something simple?
Would you like to listen to music without carrying your phone?
Are you planning or just maybe considering doing a triathlon?
Do you need a watch for ultra-distance or trail running?
What's the best overall watch for all occasions?
Do most of the watches look too big for your wrist?
1. Budget / 2. Music / 3. Triathlon / 4. Trail & Ultra / 5. Multisport & Everyday / 6. Smaller Wrists / FAQs
BUDGET RUNNING WATCHES
Who said you need the most expensive item if you want quality? Maybe you are a runner who wants to enjoy the experience without wasting time on overly complicated settings. Perhaps you've just started a "couch to 5k" and you don't want to spend a fortune on it, but you still want to check your stats, see how fast and far you are going and how you are improving compared to yesterday.
These models are perfect for all distances, from an easy 3k to full marathon distance.They provide really good battery life, usually around 30hrs in full GPS. They also track your distance, pace and sleep, as well as basic metrics for cycling and indoor gym exercises. Extremely light weight and reliable.
RUNNING WATCHES WITH MUSIC
Are you a fan of listening to music or perhaps a podcast while running, but you're tired of carrying your phone? Simply choose a watch with built-in music storage. These options allow you to physically download the music to your watch or to pair them with a streaming service such as Spotify, Amazon Music, Deezer, iHeartRadio. That way you don't need a phone with you.
---
TRIATHLON WATCHES
There are more things to consider when choosing a watch for triathlon. Until a few years ago, you would need to buy the most expensive high-performance model to have triathlon mode. But not anymore! Now there is a wide range of great quality options that are more affordable.
Triathlon mode simply allows you to have transitions between the disciplines, pressing only one button for the most accurate timing. So here we have a good selection of watches that will help you while training, racing, and taking on challenges.
---
RUNNING WATCHES FOR TRAIL & ULTRA
Finally committed to that crazy race you've had in mind for so long, but now you need the best watch for it? Trail and ultra-distance races require high durability and the toughest screen construction, along with techy features that can help with your training – especially if you are running in really hot weather or high altitudes. They have amazing essential tools, like a gyroscope, compass, thermometer and barometric altimeter.
MULTISPORT AND EVERYDAY RUNNING WATCHES
Looking for a watch that's versatile for multi-sport – indoor classes, gym, skiing, swimming, cycling as well as running and much more? When it comes to good value for money the choice is quite simple. These watches have everything you need, whatever sport you have in mind.
They come with all the necessary pre-set metrics and if you are missing something, you can always download more from the app. Get everything you need, whether you're a casual runner or challenging yourself with a marathon, a triathlon or even a trail-ultra. You can swim indoors or in open water, go hiking and explore. In few words, you will have no limits.
RUNNING WATCHES FOR SMALLER WRISTS
Maybe you've seen so many beautiful watches, perfect for your needs, but then you try them on and they look huge on your wrist? The best thing to do is just choose a smaller screen size. Most running watches have a 46mm screen, and in some models the case can be a bit chunky. Fortunately, some models come with the option of a smaller screen size, without sacrificing durability or quality. Let's explore some of them: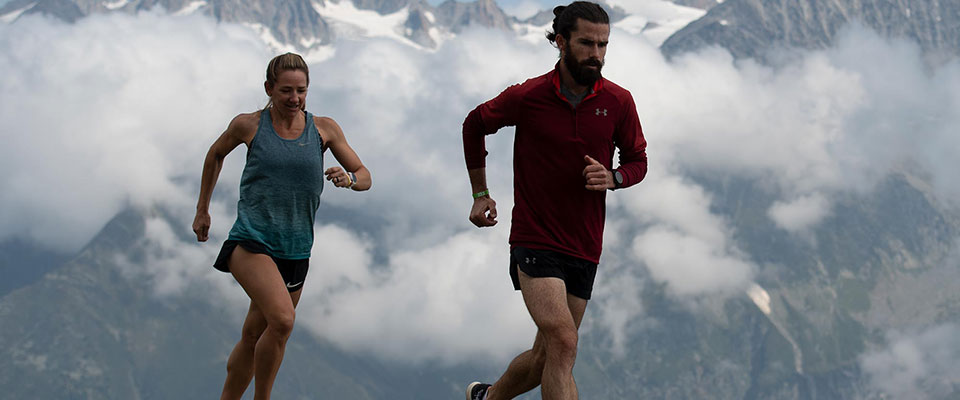 FAQs
Should I invest in a running watch?
YES. In a few words, a running watch will help you to be more aware of your stats and help you to reach your running goals!
---
What exactly is a running watch and why do I need it?
At a basic level, a GPS running watch allows runners to track how far and how fast they run with reliable accuracy. Nowadays, this category of running watch/monitor has an impressive selection of other helpful metrics, such as running form, heart rate, training load, recovery and even sleep.
If you ask runners, most will tell you that anyone who runs should invest in a GPS watch with a heart rate monitor – myself included. It doesn't matter if you are a beginner, a casual runner or a professional athlete. A GPS-HRM watch is a valuable tool to track your training and performance, and get the most out of it. I actually consider it as necessary as wearing the appropriate running shoes.
Also, thanks to those elaborate algorithms, your watch can show you a variety of metrics, so you can get to know your physical condition better, and improve your running performance. For example: understanding why you get very tired compared to other people or why you have such a bad headache after each run, since it could be related to an excessively high heart rate. That's exactly what happened to me, and I'm so grateful that my Garmin 6 was able to provide me with this useful data. It showed me how to slow down the pace while improving my cadence and keeping a low HR. I could then finally reach my distance goal while enjoying my run.
It could also help you to improve your stride. An inefficient cadence can lead to back pain and other injuries. Some watches even suggest exercises for stretching, strengthening or recovering instead of going for a run!
With the right training programme, your watch can guide you through sessions that aim to improve your pace or distance. And all this without having to carry your phone with you, so it's a win-win.
---
How do I use my GPS / heart-rate running watch?
When we start to talk about GPS, heart rate and algorithms, you might feel a bit lost. But everything is easier than you think. Once you have a new watch set up, what you have to do is quite intuitive.
1. Where on your wrist?
First, you might not be aware that you should not wear your watch too close to the wrist bone. It should be positioned slightly higher up your arm than the bone so that the LEDs are in contact with the skin for a more accurate reading.
2. How tight should you wear it?
While exercising it should be secure enough to avoid it moving around, but without cutting the blood flow. During the day you can leave it slightly looser – the HR monitor would still be able to catch the blood flow.
3. Pair your phone to your watch
Now the watch is positioned properly, let's start to use it. All brands have their own app and most of them are compatible with Apple or Android. Download the app, create an account, and finally, pair your phone with the watch. It's that simple! The watch will literally guide you through, step by step, and you're ready to go.
4. Synchronise
It is recommended to sync your data at least once a week. The app will provide you with more accurate data as well as making sure you don't lose your records. Remember, with most of the watches now, you do not need to carry your phone while training, you can always sync it later.
---
Do I need a chest strap heart-rate monitor?
As mentioned above, if you're doing high-intensity workouts, you may want to add a chest heart-rate monitor, for more accurate heart-rate data. The Garmin Pro is only compatible with Garmin devices. The more basic Polar H10 and H9 are compatible with many different apps, so for instance they would also be compatible with Garmin or Coros.
I hope these little tips will help you to pick your running watch. Choose the feature you need and the budget, then start your adventure...