Daily Telegraph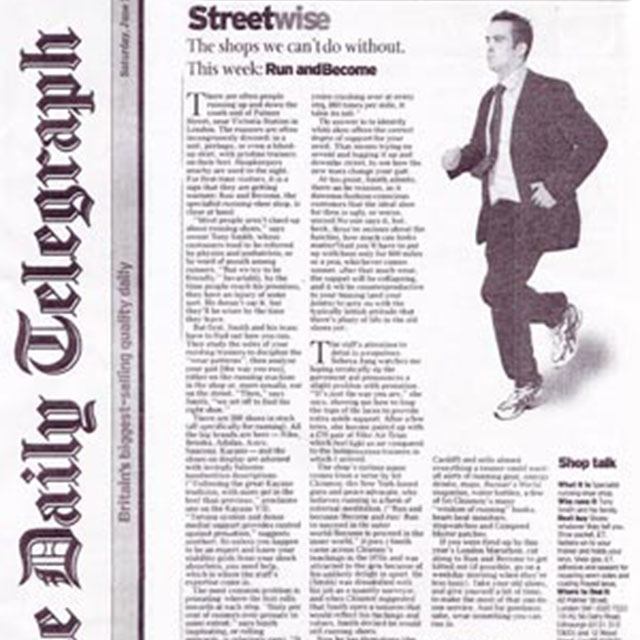 Streetwise: The shops we can't do without
by Alice Hart-Davis
There are often people running up and down the south end of Palmer Street, near Victoria Station in London. The runners are often incongruously dressed: in a suit, perhaps, or even a hiked-up skirt, with pristine trainers on their feet. Shopkeepers nearby are used to the sight. For first-time visitors, it is a sign that they are getting warmer; Run and Become, the specialist running-shoe shop, is close at hand.
"Most people aren't clued-up about running shoes," says owner Tony Smith, whose customers tend to be referred by physios and podiatrists, or by word of mouth among runners. "But we try to be friendly." Invariably, by the time people reach his premises, they have an injury of some sort. He doesn't say it, but they'll be wiser by the time they leave.
But first, Smith and his team have to find out how you run. They study the soles of your existing trainers to decipher the "wear patterns", then analyse your gait [the way you run], either on the running machine in the shop or, more usually, out on the street. "Then," says Smith, "we set off to find the right shoe."
There are 200 shoes in stock (all specifically for running). All the big brands are here — Nike, Brooks, Adidas, Asics, Saucony, Kayano — and the shoes on display are adorned with lovingly fulsome handwritten descriptions. ("Following the great Kayano tradition, with more gel in the heel than previous," proclaims one on the Kayano VII; "Torsion system and dense medial support provides control against pronation," suggests another). So unless you happen to be an expert and know your stability grids from your shock absorbers, you need help, which is where the staff's expertise come in.
The most common problem is pronating: where the foot rolls inwards at each step. "Sixty per cent of runners over-pronate to some extent," says Smith (supinating, or rolling outwards, is relatively rare}. "It might seem a small thing, but if you're crashing over at every step, 880 times per mile, it takes its toll."
The answer is to identify which shoe offers the correct degree of support for your need. That means trying on several and legging it up and down the street to see how the new shoes change your gait.
At this point, Smith admits, there can be tension, as it dawns on fashion-conscious customers that the ideal shoe for them is ugly, or worse, uncool. No one says it, but, heck if you're serious about the function, how much can looks matter? And you'll have to put up with them for 600 miles or a year, whichever comes sooner. After that much wear, the support will be collapsing, and it will be counter-productive to your training (and your joints) to carry on with the typically British attitude that there's plenty of life in the old shoes yet.
The staff's attention to detail is scrupulous. Seheva Jang watches me loping erratically up the pavement and pronounces a slight problem with pronation. "It's just the way you are." she says, showing me how to loop the tops of the laces to provide extra ankle support. After a few tries, she has me paired up with a £70 pair of Nike Air Triax which feel light as air compared to the lumpen cross-trainers in which I arrived.
The shop's curious name comes from a verse by Sri Chinmoy, the New York-based guru and peace advocate, who believes running is a form of external meditation. ("Run and become/ Become and run/ Run to succeed in the outer world/ Proceed to be become in the inner world," it goes.) Smith came across Chinmoy's teachings in the 1970s and was attracted to the guru because of his unlikely delight in sport. He (Smith) was dissatisfied with his job as a quantity surveyor, and when Chinmoy suggested that Smith open a business that would reflect his teachings and values, Smith decided he would sell running shoes.
Now he has three shops (the others are in Edinburgh and Cardiff) and sells almost everything a runner could want: all sorts of running gear, energy drinks, maps, Runner's World magazine, water bottles, a few of Sri Chinmoy's many "wisdom of running" books, heart-beat monitors, stopwatches and Compeed blister patches.
If you were fired up by this year's London Marathon, cut along to Run and Become to get kitted out (if possible, go on a weekday morning when they're less busy). Take your old shoes, and give yourself a bit of time, to make the most of that one-to-one service. And for goodness sake, wear something you can run in.
Shop Talk
What it is Specialist running shoe shop
Who runs it Tony Smith and his family
Best Buy Shoes: whatever they tell you. Shoe pocket, £7, fastens on to your trainer and holds your keys. Shoe goo £7, adhesive and sealant for repairing worn soles and coating frayed laces.
Where to find it 42 Palmer Street London SW1 (020 7222 1314); 56 Dalry road, Edinburgh (0131 313 5300); and 12 Wood Street, Cardiff (02920 232346).