Saucony Guide 14, Support Road Running Shoes
Category
Summary
Average Weight: Men's 398g / Women's 266g
Offset: 8mm (32.5mm/24.5mm)
Super comfortable, durable and reliable road running shoe, with medial support for over-pronation. A fantastic option for everyday running.
Features
Upper
3D engineered fascia, for comfort and extra stability
Personalised FORMFIT upper stretches where needed for a secure fit and feel
Secure heel counter
78% recycled materials in the collar and tongue
Midsole
Anti-pronation support, provided by the TPU guidance frame
Springy, lightweight cushioning with PWRRUN technology
Outersole
Flexibility from TRI-FLEX technology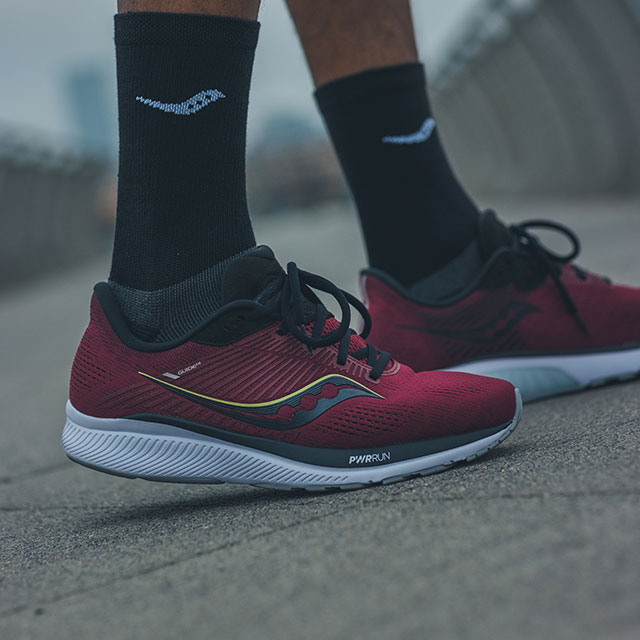 Pros
Super comfy feel in the upper, like a hug for your feet
Springy cushioning, but not too soft and squishy, so you can still feel in control
Anti-pronation support extends to the midfoot, so if you're a midfoot or forefoot striker it can still offer stability
Simple, understated design – nothing flashy
Cons
There have been complaints in the past that the fit in the heel of Saucony shoes is not snug enough, causing slipping for some people. Although to the eye it still might look a little wide, the improved heel counter is actually really padded, holding the heel nicely. I have a really narrow heel, so I loop-lace mine out of habit, but I'd probably be fine without.
---
In testing
Right from the moment I put these on, I felt at home – they're like a pair of favourite slippers.
The upper is brilliantly designed with a supportive 3D wrap, and lovely padding where you want it – around the heel. The mesh is breathable without being too flimsy, so it'll withstand a bit of weather and wear. I tend to go through the big toe area quite quickly, so I always keep an eye out for anything too thin.
Full disclosure: I don't do a lot of mileage. But there's bags of cushioning if you do – both in the heel and forefoot. It's springy without being spongy, so you can feel some energy return.
I'm a midfoot striker, mild-to-moderate overpronator with high arches, and I find the support is bang on for me. It stops my arch collapsing over without compromising on flexibility throughout the rest of the footstrike.
---
Verdict
I absolutely LOVE these shoes. To be honest, when I had a natural gait analysis session and my colleague brought them out, I thought they looked a bit boring and maybe not very plush. Don't let your eyes deceive you – the Guide 14 gives far too modest an impression of its performance.
Years ago I had one of the really early Saucony Guide models, and found it brilliant. I was then into Brooks for many years, especially the early GTS. I couldn't get on with later models though, partly due to running a bit further forward on my feet, and also because I have high arches I like the feeling of a bit more strapping in the upper. The Guide checks all the boxes for me, so I'm back to my old friend. Can't wait to try the 15...