Category
Summary
Average Weight: Men's 318g, Women's 281g
Stack Heights: 26/18mm (Offset 8mm)
A superb cushioned road running shoe for the runner who likes a lot of bounce and also needs an element of stability.
Features
Upper: Fit Knit upper hugs the foot securely to offer extra stability. Wraparound heel collar keeps your foot really comfortable, while sueded heel tab ensures that your achilles won't suffer from any irritation.
Midsole: DNA Amp responsive midsole provides great bounce, superb cushioning and fantastic energy return. The foot is guided through the stride thanks to the great Brooks innovation in support technology: Guide Rails.
Outsole: Flexible arrow-point pattern; crystal rubber for fast transition.
Pros
Superior energy return thanks to springy cushioning
Comfortable sock-like fit around heel
Very little stitching in the upper
Guide rail technology guiding a mild overpronator through the stride and not interfering with the gait of a neutral runner
Cons
Depending on the shape of the foot and the size of the model one decides to go for, some people may need a bit of time to get used to the feeling of the instep section
Extra eyelet is missing which can be a bit disappointing for those who wants to do lace looping.
In Testing
I'm a neutral runner and for running anything below a marathon distance I usually use neutral shoes. If my long runs or races take me beyond 26 miles then I like to wear shoes with a bit of overpronation control, as otherwise my IT band starts 'talking' to me.
These days I usually run in the Brooks Levitate 2, so I was really curious to try out the new Bedlam. Although the shoe feels a bit heavier than I'm used to (especially in comparison to the Levitate), it's not really bothering me. I like to use the Bedlam on my long recovery runs and low-intensity training, when I can enjoy its springy cushioning and high energy return.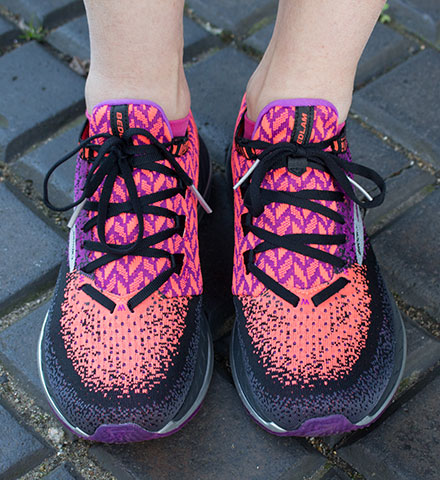 I appreciate the element of stability in the Bedlam, which becomes very useful over longer distances. The Guide Rail support technology is made up of a surrounding wall that keeps the foot at the centre of the platform, like the bumpers in a bowling alley. I was a little concerned that the support would feel too intrusive. Luckily, to my great relief this wasn't the case at all. I am not really aware of the Guide Rails. They feel natural to me and they give me this extra support that I need on longer runs when my body gets tired.
I tested the shoe on different terrains – road, towpath, gravel, wet pavements – and it felt great. In particular, I was curious to see how the shoe performs on wet pavement and roads, as I heard some contradictory opinions. I have to say that for me it feels really secure and I didn't experience any slipping at all. Another great benefit of the crystal rubber outsole is that the Bedlam seems to be wearing out less quickly than other comparable trainers.
Verdict
Despite the 8mm drop, this shoe is a bit on heavier side, so I wouldn't choose it for fast runs. Nevertheless, it's a trusted and reliable shoe for long slowish runs and low-intensity training, especially for those who want a bit of support. Great comfort, springy cushioning and high energy return are just some of the many benefits that the Bedlam can offer you.