Review: Vibram FiveFingers Spyridon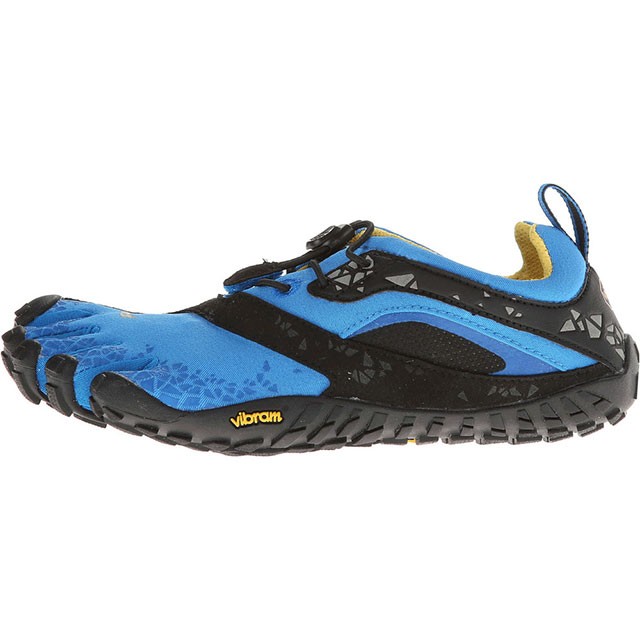 Category: Barefoot Running Shoes
Average weight: Men's 43 222g / Women's 38 160g
Recommended for: off-road barefoot runners, or runners wanting to transition to barefoot running.
Men's left / Women's right
Pros
Aggressive thread with directional lugs (to improve push-off in the forefoot and braking in the heel)
Molded nylon mesh layer in the arch area provides extra protection from the surface
3.5 mm thick sole
Good balance between the natural and ground feel
Coconut Active Carbon for breathability and odour control
Cons
The uppers' fabric is a little bit thicker and tougher, which is good for the warmth but little less so for ventilation.
Slightly heavier than the rest of the Five finger models
---
Verdict
My initial experience when putting on the Spyridons was the awareness of the moulded nylon under the arch. It provided a strong feel of connectedness and grounding. The sole felt thicker. The toe sockets are deeper as usual. Although the shoes were comfortable, they felt the heaviest out of all the five fingers I have used before. I was really aware of having them on the feet. They scared me a little.
Once I took them out for a run, all my worries have diminished. They have a smooth ride off-road, great protection from the stones, good grip in the mud, wet grass and hills and they don't clog up. There will be the unavoidable grass between your toes as with all of the models, but it's not enough to disrupt the run. I used them on roads too, where the 3.5mm sole acted as a great cushioning. Although this is an off-road model, I'd also recommend it to those wanting to transition to barefoot but needing a bit more protection than the Vibram FiveFingers KSO.
Since its uppers are made of a tougher material, the ventilation is slightly reduced. They are fine for runs up to an hour, but I would wear socks for anything longer that. If you're planning to use them as your daily pair for example on holidays, do wear socks too, or don't forget to pack a bottle of baby powder with you. This model is definitely the only one my friends begged me not to take off due to its odor (well, it was after wearing them in the Caribbean for days on end).
Shop now at Run and Become
Claire Pánek

May 18, 2017 at 12:01am

Hi
I'm looking for some advice. I've been a barefoot runner for about 3 years. My first pair lasted me over 2 years (and are now being used sailing!). I then bought a pair of men's vibrato fivefinger spyridon MR, which have been great but have lasted less than a year. They saw me through our local 10k Wolf Run - I was running through the muddy woodland stretch passing everyone else gingerly walking and slipping everywhere! Last Autumn I took up Canicross - running in harness attached by a bungee line to my dog's harness. I have a strong 2 year old Irish Setter dog. I'm a 5ft 3 slim female! He provides tremendous pull, and we've done fantastically well in our first season racing - placed every time out: two firsts, a second and a third. But this type of running had been hard on my shoes - hence they are overdue replacing. During our last race I fell three times on the wet short grass - but I'd not have slipped if I'd not been attached to my dog. I thus need a barefoot which gives me the best grip available.
With so much forward pull, I've been putting a lot of pressure on my heels such that I've blistered the base of my right heel. I found your information about style of running barefoot very interesting. With so much forward momentum, my stride has to lengthen (otherwise my legs can't move fast enough to keep up!). I shall now try to make sure that my foot lands more under me, and therefore flatter, which should help my heels.
So, basically, which of the barefoot shoes gives the best grip?
Best Regards
Claire Reply

Helena Laczko

May 20, 2017 at 1:31pm

Hi Claire,
Thank you for your comment. I'm really excited to hear about your adventures and successes.
If we're talking about FiveFingers, the short answer to your question would be the new off-road model: V-Trail. I haven't tested it yet, but it has the MegaGrip outsole with multi directional lugs, which should give you better traction than the Spyridon. It is hard to get deeper grip on these types of shoes without changing what they are.
I'll be honest with you. I used to be the most stubborn barefoot runner, until I moved to Scotland. I kept running in FiveFingers, and was adamant to keep to it. But when the winter arrived with all its rains, I just kept falling over, more and more, to the point of frustration. It took me a very long time till I shyly got myself a pair of the lightest fell shoes (lowest heel drop). I was very nervous to use them the first few times, as it's been years since I used anything else but FiveFingers. But I learnt to use and love them. I still stick to my FiveFingers, but when it's really wet and muddy/snowy, I pull on the fell shoes, and enjoy the mud, hills, unseen and unknown. No more falling over, thinking and braking and being careful, just go crazy. Has it changed my running style? Absolutely not. It's been the best compromise.
PS: Yes, your feet should land more underneath your body, less impact for your heels and body. Wearing socks should help with blisters, are you wearing socks? You could put heel pads into your Vibrams but that would also change the heel drop.

Reply