Ronhill Tech Gore-Tex Running Jacket
Category
Summary
A really light and fully waterproof, breathable and windproof jacket, featuring the latest groundbreaking Gore-Tex Shakedry™ technology.
Features
100% Waterproof with fully taped seams
The Gore-Tex Shakedry™ waterproof membrane sits on the outside of the fabric
Extremely breathable and quick drying to give comfort on the run
Lightweight
Windproof
Secure pocket for lightweight storage
Adjustable storm hood
Waterproof zips
Venting tab
Thumb loops
Reflective
Relaxed fit
Easy wash
Pros
Lightness – it crunches down into the size of your clenched hand for easy carrying
Incredibly high breathability and waterproof ratings
Full-length waterproof zip
Waterproof zip pocket
Easy clean and care
Cons
Top end price, but a lot of proven tech to justify it
How waterproof is it?
Gore is traditionally reticent to give exact figures on breathability and waterproofing values. There is a confident attitude of, "It's Gore-Tex, of course its breathability and waterproofing are excellent."
Generally perceived experienced wisdom is the Hydrostatic Head (HH)* of Gore-Tex is a minimum 27,000.
When you think that to pass muster as mandatory kit for your average hill or trail race, a waterproof jacket needs only to be 10,000 and the majority of waterproof running jackets hover around the 20,000 mark, that is pretty impressive.
The main innovative feature of Gore-Tex Shakedry technology is that instead of a conventional textile surface, Shakedry jackets have the Gore-Tex membrane on the outside. This enables any product to be far lighter and more breathable, enabling rain to just bead or drip off the jacket.
So an incredibly light jacket stays light, as the fabric doesn't even absorb moisture to add weight even temporarily.
---
How breathable is it?
Establishing the MVTR (Moisture Vapour Transmission Rate**) or general breathability of a jacket is often difficult as individuals sweat at different rates. It also varies depending on external conditions like wind chill. Many companyies like Ronhill tend to go with wear testers' experience.
The Gore company, responsible for creating many innovative fabric technologies in recent years, have a few different levels of breathability. Apparently Shakedry is the most breathable membrane that Gore produce – even more breathable than Gore Pro which is 30% more breathable than standard Gore-Tex.
---
Is it easy to look after?
Yes. Washing Gore-Tex Shakedry™ is slightly different to other waterproof garments. As they have no textile outer layer - the outer layer is the Gore-Tex membrane itself and there's no need for reactivating DWR (Durable Water Repellent).
In Testing
This jacket doesn't fail to impress. It has been used in very windy and sometimes extremely wet conditions by our Edinburgh customers. Whether on exposed road runs or on low or high-level hills and trails, we continue to get many rave reports on how it performs through the Scottish winter.
Its lightness gives the impression that you aren't really wearing a jacket and it has none of the slight stiffness some traditional layered jackets have. The storm hood gives that so-important, great all-round head protection and the elasticated sleeve cuffs with the thumb loops ensure a very snug wrist fit too.
---
Verdict
The Ronhill Shakedry jacket gives exactly what any regular all-year-round, all-weather runner requires, whether on the exposed roads, trails or mountains: comfort, breathability and wind protection while remaining dry.
As Ronhill say, "This jacket has serious innovation providing serious mile-after-mile comfort, even in serious weather." In a nutshell, all experienced runners know there are waterproof jackets… and then there are err waterproof jackets.
You can indeed buy a "waterproof jacket" for as little as £50 or less, but it certainly won't be very breathable, and if used for extensive time, will leave you clammy and possibly cold inside. It certainly won't be ultra light.
To combine those properties in a style that fits well does, unfortunately, cost money.
If running outdoors where there is a chance of rain is what you are into – whether that's a 5k round a few urban blocks, or a day-long adventure on the trails or in the hills – you need a decent jacket that is going to keep you dry and comfortable, and in the hills it can indeed help to be a life-saver.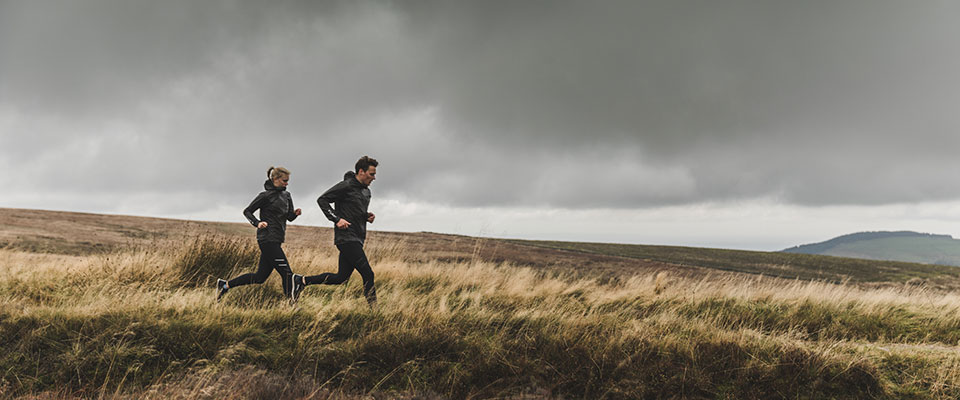 Technical Terms
*What is a Hydrostatic head rating?
For a jacket to be considered fully waterproof it must be able to withstand the pressure of a column of water 1000mm high without leaking. This is classified as a hydrostatic head rating of 1000. Most GORE fabrics are acknowledged to exceed 25,500 HH.
**What is an MVTR rating?
MVTR stands for Moisture Vapor Transmission Rate. It measures the rate at which moisture permeates through a fabric measured in grams/meter/day. It is notoriously hard to measure accurately, so any rating should be treated as a guide. Similar to waterproofing, the higher the rating the more breathable your jacket is. For example, 20,000 MVTR rating will be far more breathable than a 10,000 rating but not as breathable as a 30,000. With so many variables Gore do not tend to publish a definitive MVTR rating. User "comfort feedback" would indicate an exceedingly high rating.