Tiger Tail Massage Roller
Category
Summary
Portable massage tool that can be packed easily for your travels.
Relieves muscle pain, prevents injuries and increases mobility.
Helps to speed muscle recovery after your runs.
Features
Great to use for muscle relief and also as a massage therapy.
Relieves pain and sore muscles fast.
Very easy to clean with antibacterial spray!
Portable tool that can easily be taken travelling with you.
Useful for pre-workout, during or afterwards to relieve tension in your muscles.
Helps warm up muscles before exercise.
You can use it on all muscle groups such as your neck, shoulders, arms, upper/lower back, hamstrings, glutes and quads.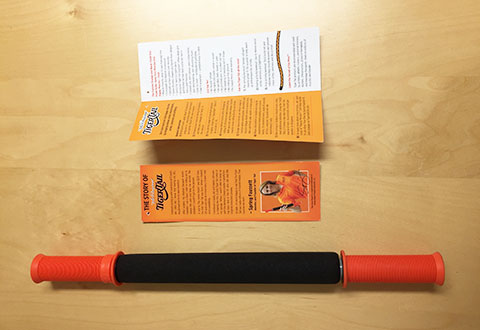 Pros
Useful for those hard-to-reach spots.
Great to use as a massage tool but also to relieve any tightness.
Handy for both upper and lower body work.
Helps relieve muscle knots, aches, crams or any stiffness.
Helps prevent muscle knots.
It can help to speed recovery and post workout tightness.
Effective in treating calves, hamstrings, quadriceps and IT band.
You can apply as much or as little pressure as you want.
Cons
If you want to use it for maximum pressure on a certain spot, it might be useful to have somebody to help you roll it on that area.
---
In Testing
I have never taken to using a massage roller before, but since having issues with my back it is my number one go-to! For a long time I had been experiencing back tightness and my usual stretching routine didn't seem to be hitting the mark. The roller enables me to relieve muscle pain and stress in the shoulders easily. I find that it's also great to use before a run to prevent injuries and increase mobility.
---
Verdict
I LOVE this massage roller! It's so difficult to get to certain spots on your back and shoulders to relieve pressure but this roller makes it easy. It's like having a portable massage with you at all times! I particularly love that it's easy to carry which means I can take it on my travels. Also, I have noticed that it definitely helps speed muscle recovery after my runs which is great. It's a small price to pay for muscle relief!