Salomon Trail 20L Running Backpack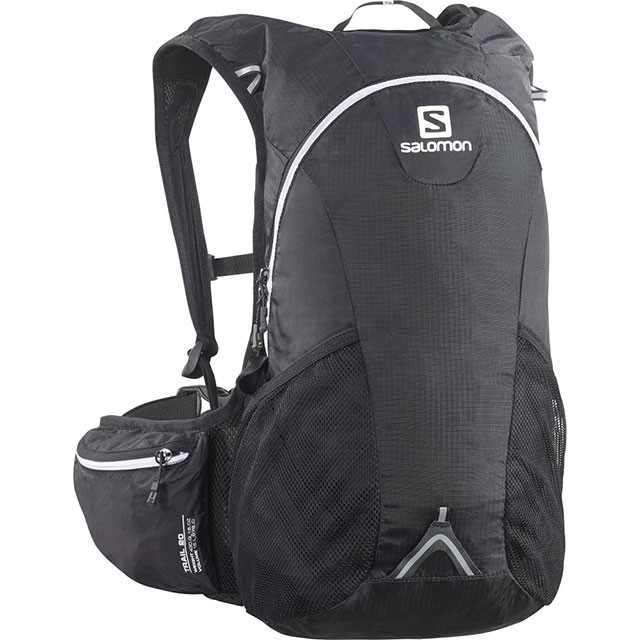 Category: Running Backpacks
Recommended for: running to or from work, but would also work for trekking, hiking, cycling or everyday use.
Pros
Good size
Lightweight but with comfortable padding on the back
Good design (big main compartment with a smaller mesh pocket, big external zipped belt pocket)
Can be compressed when not full
Looks nice :-)
Cons
Might not fit slim or petite ladies
Access to the outside mesh pockets isn't great (unless you want to take it off)
---
Fit
The main reason why I got this backpack wasn't the fit but its size and design. It doesn't fit me perfectly but I blame that on the fact that I'm tall and skinny. Even with all the straps pulled to maximum it's not completely snug, but it doesn't move or bounce (I don't even usually use the chest strap). It's very adjustable though and sits nicely against your back. The belt is wide and secure; it's higher than stomach level so it doesn't press on your stomach during your run.
---
Features
This backpack has a 20L volume capacity which is great if you need to carry a lot of stuff like me. It's got one main compartment with a smaller mesh pocket where I usually put my wallet and other smaller bits and bobs which I want to have easy and quick access to. There's the compulsory bladder compartment with a strap and buckle to attach it to (I use it for books).
On the outside there are 2 mesh pockets (for bottles?), a belt zipped pocket where I usually keep my phone, oyster card, tissues; and a mesh pocket on the other side (which I don't usually use). There are also two compression straps that can be used to make it smaller when it's not completely full (that hasn't happened to me yet though as mine's always crammed). 3D airmesh shoulder straps and airvent back system make for a very good ventilation without you getting too hot and sweaty. The pack is made of durable Ripstop fabric.
---
Verdict
It's a really good backpack and I'd recommend it to everyone who runs with lots of stuff. The size is great and you can pack a lot of things in. It's lightweight but sturdy; it's got the perfect amount of padding on the back to be comfortable but at the same time not too hot or heavy. The inside mesh pocket and the outside zipped pocket are very handy if you want to store your wallet, phone or other essentials securely but with a quick access. I don't think the mesh pockets would work for bottles though as they aren't so easily accessible without taking it off. I haven't tried running with a bladder but I think it would work fine. I also like the fact that it doesn't look like a running backpack with garish fluoro colours and bungees hanging around, so I can occasionally use it as a backpack.
Shop now at Run and Become