OMM Classic Mountain Marathon Running Backpack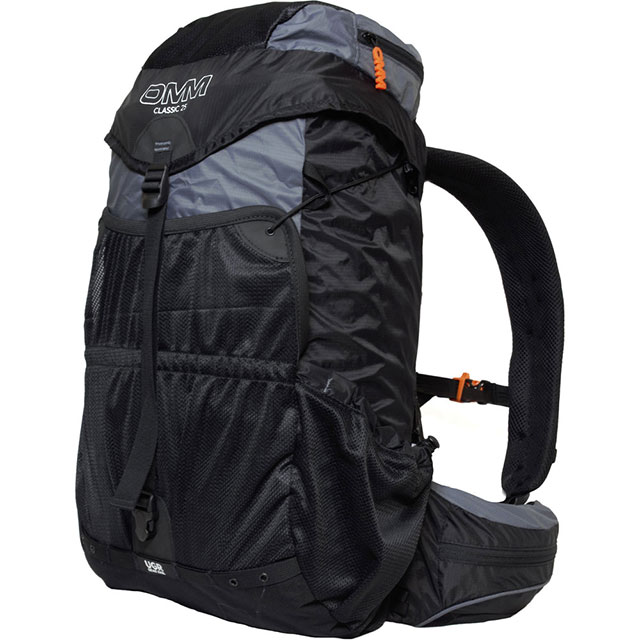 Category: Running Backpacks
Capacity 25L
Recommended for: all activities: running, cycling, hiking, travelling, etc.
---
Pros
Big capacity
Lightweight
Easy access mesh pockets
Stable and comfortable shape
Water resistant
Durability
2 adjustable front straps
Hydration bladder compatible
Whistle on the chest strap
Reflective detailing
Speed opening buckle system
Removable duo mat which you can use as a sit pad or sleep mat
Cons
Because of the neck shape, I found them more comfortable for people with bigger frames
Not 100% waterproof, but water resistant – good enough for most of my adventures
---
Verdict
To be completely honest with you, I bought this backpack not for running, but as an everyday rucksack. I remember the days when a 10L backpack was big enough for me… but that was long time ago and I was doing far fewer activities than I am right now. So, I just needed something big enough to fit all my important stuff inside, but very lightweight on the other hand. I like the OMM brand, I already had a10L backpack (oh, those days…), a great waterproof jacket, so I wanted to try another product from this brand.
I thought that it's impossible to run with that big a capacity backpack, so I didn't even try to run for the first few weeks and I used it only for every day walking, travelling and cycling. Until the day, when I finally gave it a try and… regretted that I hadn't run with him right from the beginning! This backpack is INCREDIBLY stable on the back (because of the shape and the duo mat padding inside), so even if it's totally full – which happens almost every time in my case (oh, these days….) it's still very comfortable, sits nicely without bouncing. Good lesson: never judge a book by its cover – so, never judge an OMM backpack as uncomfortable, just because of the capacity! Try it first!
So, since I've become a more open minded person I am using the 25L backpack for most of my runs. It really doesn't matter if it's fully packed or not; it's still very comfortable. I am a woman, but quite, hmm…let's say "athletic" of frame, so it's a good shape for me, but I adjust the straps almost completely up to the ends, to find a nice "hug". So, people with a smaller frame could find this backpack too bulky, too big. You should try it first.
What is really nice is the easy access to the mesh pockets on the sides and on the top of the backpack, you can reach them while running without stopping. They even have a special name for it: OTMA (On the Move Accessibility) and it works perfectly!
Water resistant – although with laptops and other smart products it's better to cover them with a plastic bag in case of a big storm. But, the resistance is actually quite good, I've cycled many, many times in the rain, and never had my stuff wet inside. Maybe once, slightly damp.
Also, I like the durability of this product. I have quite a few backpacks or vests already, and always after a while of using them, I could find some holes or fraying. But after a few months of almost daily using the OMM, I couldn't find anything! No holes. No fraying. Not even that dirty… can't believe it, magic backpack! ;)
So, summarizing Classic OMM 25L: it is really great for running! Even if it's completely fully packed it's still very comfortable and super stable! Very light and durable so it suits all your daily activities and works great for hiking and travelling.
Shop now at Run and Become