The Peace Run is now running across the UK
The Sri Chinmoy Oneness-Home Peace Run is a global torch relay that has been taking place every year since 1987.
This year the Peace Torch is being carried on an 8 month continuous journey through all European Countries which started in Bulgaria in March, and will end in Portugal in October.
During more than 30 years of its existence, the Peace Run has visited over 150 countries and touched the lives of millions. Founded by an Indian peace philosopher Sri Chinmoy, the message of the Peace Run is that peace begins with each one of us, and through participating in any way we can all make a contribution to living in a more peaceful and harmonious world.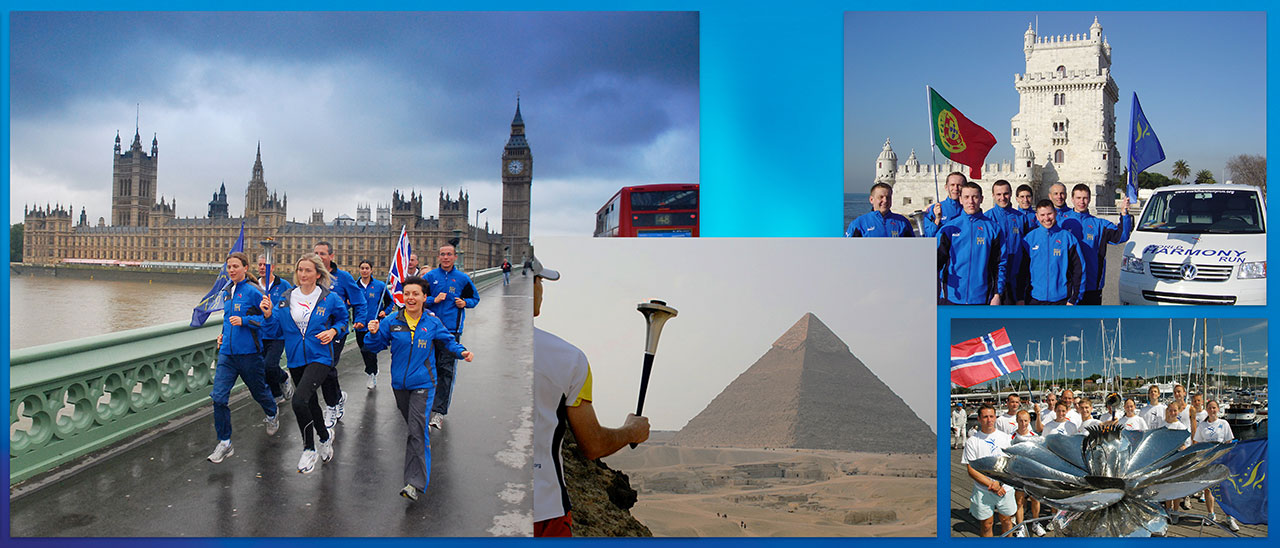 The International team of 15 runners is now running across the UK. The team arrived on the shores of Scotland from The Netherlands on August 30th, and carries the Peace Torch through Northern Ireland, Ireland, Wales and England over a period of 16 days. In cities, towns, schools and other locations along the route the torch will be received at events and ceremonies dedicated to Peace. The Peace Runners welcome everyone to greet the run, hold the torch and share their dreams for a world enlivened and emboldened by a commitment to real Peace, for all people and all nations.
Latest news from the UK Peace Run »
Peace Run Schedule 2018: UK & Ireland
Thursday 30th August
Edinburgh
Friday 31st August
Edinburgh - Falkirk
Saturday 1st September
Stirling - Glasgow
Sunday 2nd September
Glasgow
Monday 3rd September
Glasgow - Londonderry
Tuesday 4th September
Londonderry - Donegal
Wednesday 5th September
Donegal - Cavan
Thursday 6th September
Cavan - Dublin
Friday 7th September
Dublin
Saturday 8th September
Dublin - Llanberis
Sunday 9th September
Llanberis - Chester
Monday 10th September
Chester - Liverpool - Manchester
Tuesday 11th September
Manchester - Sheffield
Wednesday 12th September
Sheffield - Derby - Leicester
Thursday 13th September
Leicester - Stratford-upon-Avon
Friday 14th September
Stratford-upon-Avon - Oxford
Saturday 15th September
Oxford - Hampton Court
Sunday 16th September
Hampton Court - London
Monday 17th September
London
Since the inception of the Peace Run, hundreds of thousands of people around the globe, including athletes, schoolchildren and enthusiastic individuals, have held the Peace Torch and expressed their commitment to Peace. The Peace Run welcomes anyone who wishes to participate to join them and take those steps for Peace, holding the Peace Torch and offering his/her own hope and dreams for a better and brighter world...
PEACE POEM BY SRI CHINMOY

O dreamers of peace, come.
Let us walk together.
O lovers of peace, come.
Let us run together.
O servers of peace, come.
Let us grow together.
Global info: www.peacerun.org
UK info: www.peacerun.org/gb/
Join the Peace Run in London »
Contact:
Devashishu Torpy, Peace Run UK Director, 5 The Crescent, London SW13 0NN
devashishu(at)peacerun(dot)org