Marathon des Sables Evening, 15th January 2013
On January 15th we had our best MDS event so far. It was hugely entertaining, informative and inspirational. To those runners who were there and have a place for this year's race they got some really useful tips and had an inside glimpse into the desert ultra running experience and what it entails.
Tom Fortune and Ed Vincent methodically went through each aspect of the race and covered the dos and don'ts. The essentials for preparation and racing plus covering the rules of the race and what the camaraderie is like with so many runners from all around the world. The skill of the race is to know what to take in your pack and how to make it as light as possible. Often this is learnt the hard way and the advice that Tom and Ed shared last night would be invaluable to any runner no matter his level. It was great also to see how their ideas differed on some things. Of course each runner is different and needs to find what works for them. So part of the experience is learning while you are out there - how you adapt to the 50 degree temperatures during the day and below zero at night, the dunes, the sleeping conditions, the poisonous spiders etc etc.
We definitely want to invite them both back for another talk. Their point of view is from the running enthusiast side. Neither of them are elite runners. Their experience comes from their love of running and the desire to challenge themselves - for so many of us it is the same. Come and hear them speak next time if you can and take a load of inspiration back with you to continually enrich your own running experiences.
Questions & Answers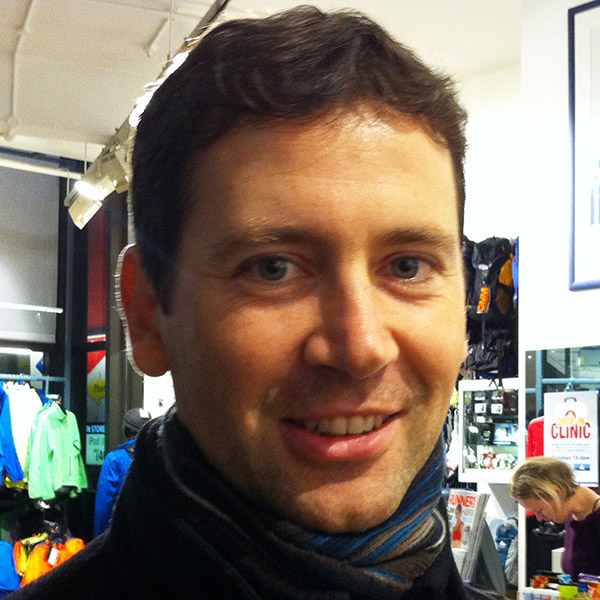 Ivan Gowan
Are you inspired to do the MDS now?
"I know a lot more about it. I'm not sure if I'm inspired of extremely scared. There's been a huge amount of information. I would definitely be better prepared to do it now€¦..urghh€¦or when that time comes. I'm training now for the London Marathon so that is my current challenge."
Milly Bowen (Tom Fortune's girlfriend)
What's it like living with an Ultra Distance Runner?
"It is really exciting because obviously he's doing something he really loves but it is difficult for the person left at home. One thing he mentioned in the talk is how nice it is to get a letter from a family member or close friend every day in the race. I write letters in advance and name them Monday, Tuesday, Wednesday etc. I put surprises, treats, sweets along with the letters and so he gets a nice moment each day with something new. I think the racing is really enjoyable, he get's so much out of it and it's exciting to hear the progress and see him come home with a medal."