Hoka Highland Fling Training Weekend 2014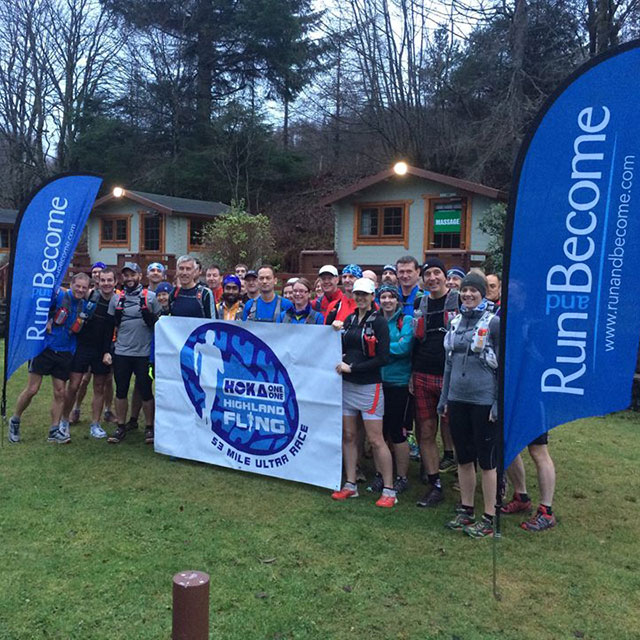 By The Way, Tyndrum, 29-30 November 2014
The first of three winter training weekends for runners training for next April's Hoka Highland Fling ultra trail race was held at Tyndrum on the last weekend of November. Superbly co-ordinated by John Duncan, the Fling organiser, with Kirsty Burnett providing the facilities at her superb wee complex of hostel, chalets, Trekker huts, hobbit houses, and camp site "By The Way" nestling beneath the west highland railway at Tyndrum lower station.
The idea of bringing runners of varying standards together, from elite level to those training for their first ultra, to share ideas, good company, some stunning trails, not forgetting FOOD proved to be a big hit.
Around 30 runners assembled at Tyndrum on Friday evening. Runners had travelled from Glasgow and the south, Edinburgh and the east, and from Deeside and Inverness in the north. After settling in to their accommodation, some runners headed for The Real Food Café in the village to sample or in many cases reacquaint ourselves with the excellent food served up in this popular venue. The Real food Café proprietors Sarah and Alan have been long time supporters of the Highland Fling race.
Having travelled up from Edinburgh after work, and missing the 8pm winter closing, I missed the real food café jaunt, but John quickly made me up a wee bowl of pasta, a good host indeed.
Most folk had now arrived and just to get everyone in the mood we watched a short film "Western Time"based on American runner Sally McRae, preparing for and running the Western states 100 miler.
The communal kitchen and lounge at the hostel made for a bustling school camp away day atmosphere on Saturday morning as we all tucked into breakfast (some breakfasts larger than others!) prior to setting off for our Saturday expedition on the Highland Fling Route.
Other runners who couldn't stay for the whole weekend, arrived from Glasgow, Callander, Stirling and even Edinburgh to swell the numbers on the run
The By the Way hostel and campsite is the venue for the race finish, so John had planned for us all to run an out and back stretch "down the way" to Beinglas Farm at the top of Loch Lomond.A great training run for those familiar with the route and a great opportunity, for first timers to get to know the route. After posing for a group photo shot we all headed off. There was no compulsion on this and folk could turn round at a point of their choosing, Half a dozen folk turned around at 8 miles just after the A82 road and rail crossing in Glen Falloch. Some made it an approximate 20 mile round trip to the Falls of Falloch. Some ,obviously well into their winter training ,completed the 13 miles to Beinglas Farm to make up an approximate "marathon training run"
Noanie had forsaken the run to prepare soup for everyone when they returned .The afternoon, or what was left of it, was spent relaxing, swapping tales of races past and races to come. There was also a chance for runners to check out some of the latest shoes from the Flings's title sponsor Hoka One One and the two new support partners, Ultimate Direction packs and Injinji socks. Several folk took advantage of Gordon Stevenson and Matt Williamson offering a very good rate for massaging tired legs after the morning miles and advising on some ongoing wee niggles.
Early evening saw everyone meet up again in the communal lounge, which with the props of screen, projector and laptop was turned into an informal mini lecture theatre. John had asked Matt Williamson and myself to give short presentations.
Matt has a marathon best of 2.34.59, has twice been Scottish Ultra trail champion and is a Scottish and GB ultra international He gave an entertaining and informative presentation on all the main elements of how to train for an ultra. He touched on planning, setting realistic goals, working out a personal schedule that suits the workload you can handle, and how to fit that into a busy life. Also, how to watch out for signs of overtraining, something many of the group, training for their first ultra found really useful.
I drew on my experience of over 30 years involved in Ultra distance running, which in recent years has also involved supporting and managing both Scottish and Great Britain Ultra distance teams. As I had the previous weekend been in Doha with the GB Ultra distance team, John had asked me to weave in some tales of the event and the very successful GB Team. (Check out my report on the race from Scottish Athletics website)
No matter what your level, first time ultra wannabe, or one of the best in the world, there are still the same elements to training. Whether that is planning, maintaining consistency, mixing in speed/tempo sessions with the long runs, the top folk just have some inborn talent, the capacity to take on a heavy work load, and usually a good support network around them. I tried to illustrate how a couple of the GB team approached and planned their year to peak at the right time for events. How important consistency is and, whatever your level, there is a need to have at least one session a week where you are a little out of your comfort zone.
After a short question and answer session, we tucked into the lovely meal that Kirsty and her helpers had cooked for us.
The meal over, we then embarked on a new venture for the Fling training weekends, The Fling Quiz hosted by the ever enthusiastic and amiable, Emma Hamilton. Teams were drawn at random to allow people to mix and mingle and Lorna Macmillan's team emerged victorious over "The Couch Potatoes" with their knowledge of ultra running in Scotland and Fling Race ultra trivia
Sunday morning again appeared cold but dry with a fabulous sunrise over the Crianlarich Hills to the east. The morning run was left to individual choice. A small adventurous group headed north by car to take in a route near Glencoe. Others opted for an easy recovery run heading off on the forestry track across the railway from By The Way over to Glen Conan, the site of the Tyndrum goldmine. Kirsty has some amazing wee trails literally, on her doorstep! After showering, we all congregated over hot drinks and snacks, before heading our separate ways home.
Everyone agreed they were going home totally enthused and inspired, many looking forward to the next raining weekend already. Check out details of the two remaining Hoka Highland Fling training weekends at the Fling Facebook site. Run and Become would highly recommend to any runner or group of runners, just wanting a self catering, self sufficient short break, checking out "By the Way". It makes for a superb base and Kirsty and Ranold are excellent hosts.
David Hanna

June 3, 2015 at 3:28pm

Hi,

Do you know where I can find the times of future training weekends?

David Reply

Adrian Tarit Stott

June 3, 2015 at 3:39pm

David,
Thanks for your post.
Next two Hoka Highland Fling training weekends are set for By the Way at Tyndrum again on weekends of 27th Feb/1st March and 27th -29th March
Best point for info/discussion is the busy Fling Family Facebook page
or drop Jonny Duncan a mail. Good luck with the training.
Adrian

Reply